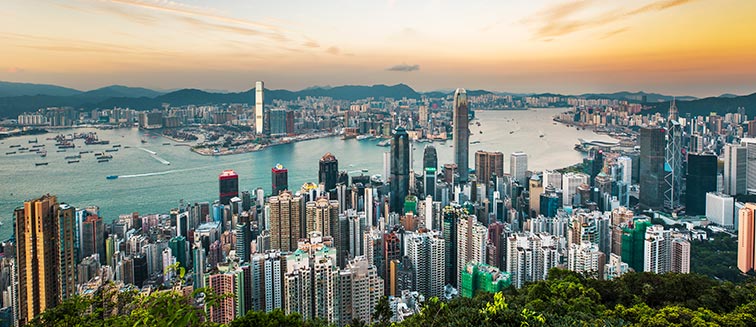 What to see in Hong Kong
Victoria Peak
Tourist attractions Victoria Peak
The highest mountain on the island of Hong Kong and known locally simply as 'The Peak', Victoria Peak is without a doubt the best place to obtain an unspoiled panoramic view of the city of Hong Kong, the beautiful harbor and even the surrounding islands such as Lamma Island. A funicular mountain train takes tourists and visitors up to the peak, which measures 552 metres above sea level, and it is one of the most popular attractions in Hong Kong.
As well as providing great views of the city, the peak is home to an abundance of wildlife, due to the temperate mountain climate and it is not uncommon to see colourful butterflies or the elusive black kite, a bird of prey, whilst visiting the area.
Due to its popularity with visitors, there is now two shopping centres, numerous restaurants and even telescopes at the top, so it is easy to spend a whole afternoon on the mountain, admiring the seemingly endless landscape below. In Hong Kong, the peak is known as being an affluent neighbourhood, with properties in the area being some of the most expensive in the world, as the views across the city are so appealing!
We don't have any trips to Victoria Peak at the moment.
Subscribe to our newsletter to not miss any trips
In compliance with the Data Protection Regulation, we inform you about your rights in our privacy policy and Cookies policy

Do you want expert advice?
We can help you choose the best destination for your trip.