Call us for free now
Book with an expert for free:
+44 20 8068 3176
Prefer us to call you? Drop your number in the box:
Mon. to Fri.: available 24-hours Sat. and Sun.: 8am - Midnight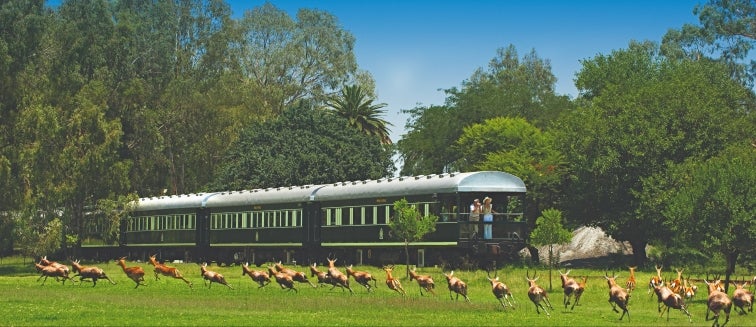 What to see in South Africa
Rovos Rail
Tourist attractions Rovos Rail
The epitome of luxury travel, Rovos Rail is a South African-based train hotel which travels along routes between South Africa, Nambia, Tanzania and Angola. Established in 1989, it is considered the 'most luxurious train in the world'!  With a choice of journeys ranging in duration from 48 hours to 15 days, this one-of-a-kind train experience brings travellers close to the landscapes, nature and culture of Southern Africa in complete comfort.
Onboard you'll find an array of accommodation carriages, all with en suite bathrooms and surprisingly spacious cabins, elegant dining carriages and luxurious lounges, complete with panoramic windows for soaking up the views. There is also a gift shop and observation carriages on board.
Rovos Rail prides itself on offering an amazing culinary experience too! Traditional dishes, using local ingredients are its main offerings, accompanied by fine South African wines. Themed evenings are a highlight of a trip on Rovos Rail, and guests are expected to dress in their finest attire for dinner in order to add to the special atmosphere. 
The most popular routes include Pretoria to Cape Town, Pretoria to Durban and Pretoria to Victoria Falls in Zimbabwe. If you'd prefer a longer jaunt, Dar es Salaam in Tanzania to Lobito in Angola crosses Southern Africa from the Indian Ocean to the Atlantic. Another great route to consider is Pretoria to Walvis Bay in Namibia. All of these wanderlust-inducing journeys include exciting wildlife safaris and an array of unique and interesting excursions. The train makes frequent stops at places of interest, whilst time on board is spent admiring the changing landscapes and enjoying the onboard entertainment, such as informative talks and evening dining events. 
To travel on the Rovos Rail is to experience Southern Africa in absolute luxury. A 5-star hotel on wheels, a trip on Rovos Rail is a bucket-list journey for the most discerning traveller!
OUR BEST TRIPS TO ROVOS RAIL