Call us for free now
Book with an expert for free:
+44 20 8068 3176
Prefer us to call you? Drop your number in the box:
24 hours a day, 7 days a week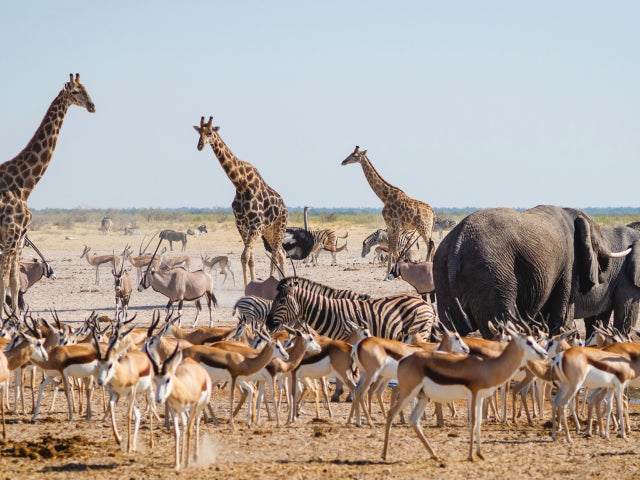 What to see in Namibia
Etosha National Park
Tourist attractions Etosha National Park
In the northeast of Namibia and on a plain stretching 22270 square km, you can find Etosha National Park.
The Etosha National Park is one of the best and most important game reserves in Southern Africa. Its name means "the great white place" because of a large amount of carbonate that is concentrated on the surface of the land. The landscape is varied from depressions to grasslands, herbaceous meadows and various types of savannah.
It is home to 350 varieties of birds, 110 of reptiles, 16 species of amphibians, 1 species of fish and 114 species of mammals, such as lions, elephants, giraffes, jumping gazelles, oryx, impalas, leopards, hyenas, foxes, jackals, mongooses, badgers, pangolins, warthogs, zebras or wildebeest among many others. It also houses the largest population of cheetahs and black rhinoceros in the continent, the latter unfortunately in danger of extinction.
The fauna is characterized by the mopane that constitutes 80% of the trees and whose leaves in the shape of a butterfly are a delicious snack for elephants, giraffes and rhinos. The acacia is the second species in importance along with the red bush, the tamboti, and the moringa.
The park has four entrances, to the south the main one whose name is Andersson Gate, to the east the Von Lindequist Gate, to the west the Galton Gate and to the north the Nehale Iya Mpingana Gate. There are four camps where visitors can spend the night: Okakuejo, Namutoni, Halali and Onkoshi, in each of which there are ponds where animals go to drink during the dry season, from May to October, a time in which the landscape is arid and dusty. A dozen more water wells or "pans", both natural and artificial, are dispersed in the 350 km of tourist routes between camps, constituting the best places for the sighting the animals from their viewpoints, both day and night, since they are all illuminated.
Other interesting places in the park are the Haunted Forest with ghost-like trees of African moringa; the Fischer depression where the Omuramba Owambo river flows and the Etosha lookout.
OUR BEST TRIPS TO ETOSHA NATIONAL PARK