Call us for free now
Book with an expert for free:
+44 20 8068 3176
Prefer us to call you? Drop your number in the box:
24 hours a day, 7 days a week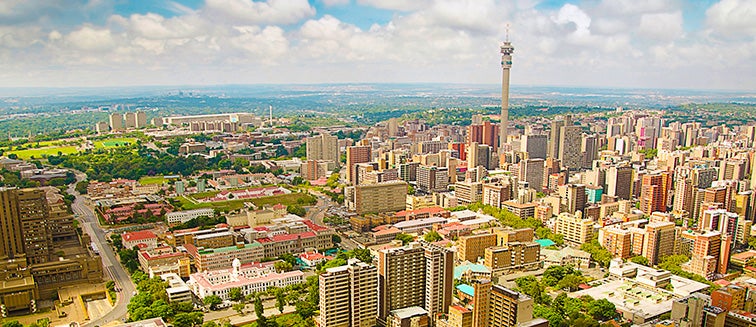 What to see in South Africa
Johannesburg
Tourist attractions Johannesburg
South Africa's largest city, Johannesburg is a cultural melting-pot and an excellent starting point for further discovery and tours of South Africa. Trendy neighbourhoods, such as stylish Maboneng, have sprung up in recent years amidst the urban sprawl, offering travellers an accessible glimpse into the vibrancy and diversity of modern South African culture. On the other hand, Johannesburg's suburbs, such as famous Soweto, are also filled with cultural insights and stories of the nations eventful history.
Despite the city's questionable reputation in recent decades, 'Joburg', as it's known locally, is looking towards the future with optimism. Walls adorned with community murals, charismatic street vendors and an eclectic, international food scene make a trip to Johannesburg a highlight of any holiday to South Africa. In fact, foodies are sure to fall for Johannesburg's food scene, perhaps the best in the country. Representing the diversity of the city, it's exceptionally cosmopolitan, meaning traditional South African food is surprisingly challenging to find.
Instead, eat your way through the different neighbourhoods and you'll be rewarded with cuisines ranging from Turkish to Indian, Ethiopian and Asian, to name only a few. The best time to visit Johannesburg is during the sunny winter months between May and August when temperatures are mild yet pleasant. Joburg's skyline is dominated by the huge Hillbrow Tower, which makes a handy landmark to help you keep your bearings whilst sightseeing in the city centre.
Johannesburg's plentiful museums and galleries, such as the Johannesburg Art Gallery, are sure to satisfy culture-vultures, whilst the abundance of live music venues and seemingly impromptu parties in the city's bars and restaurants makes it one of South Africa's most fun-loving destinations. 
What to see in Johannesburg
Due to its size and diversity, there are countless things to see in Johannesburg, depending on your interests and travel style. Longing to experience the city's youthful spirit? Head to the university neighbourhood of Braamfontein on a Saturday morning to browse the lively food market, busy with local students and a great place to savour the flavours of modern South Africa.
If you're keen to learn more about the nations turbulent history, look no further than the Apartheid Museum and Mandela Family Museum, both situated closeby to the suburb of Soweto, in the shadow of the mural-laden Orlando Towers. Other things to do in Johannesburg include visiting Nelson Mandela Square, situated in the upmarket, touristic neighbourhood of Sandton. This elegant square is home to a huge statue of the anti-apartheid revolutionary Nelson Mandela and a selection of cafes and restaurants from which you can enjoy the views. Constitution Hill, a former prison complex and living museum, is another must-see on a trip to Johannesburg.
One of South Africa's most important historical sites, it bears testament to the nation's turbulent past. Gold Reef City, an amusement park, might not be an obvious choice for visitors to Johannesburg, but holds a sightseeing secret in the form of a fascinating underground mine. The underground mine tours on offer here provide an interesting look into South Africa's gold rush. If you visit Johannesburg you can also enjoy a number of hop-on-hop-off bus tours and group walking tours, both informative and safe options for exploring the heart of the city and its diverse neighbourhoods. 
OUR BEST TRIPS TO JOHANNESBURG