Call us for free now
Book with an expert for free:
+44 20 8068 3176
Prefer us to call you? Drop your number in the box:
Mon. to Fri.: available 24-hours Sat. and Sun.: 8am - Midnight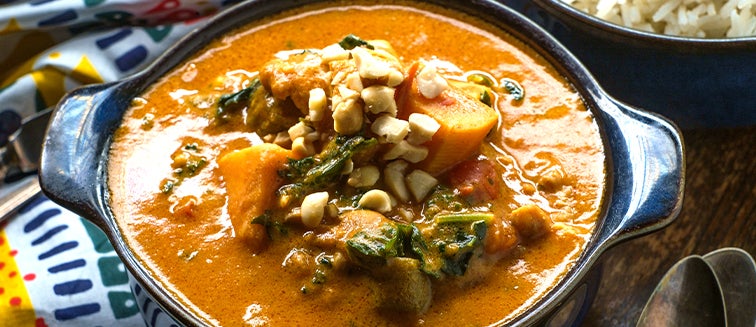 Food In South Africa
The cuisine of South Africa is characterized by its great variety of ingredients introduced during the colonial era. The Afrikaner ethnic group, a Dutch ethnic group that occupied the lands of southern Africa, discovered new ways of using the local produce whilst maintaining some of the most traditional customs of the native population.
South African cuisine is rich in meat and spices, and its dishes are considered the most exotic in the continent. Do not miss the typical dishes when travelling to South Africa.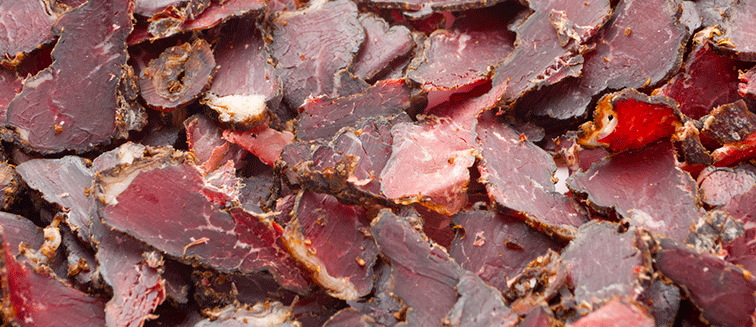 Biltong
Served as if it were a snack, biltong is made up of dried meat, such as beef, game animals or even ostrich. It is usually seasoned with spices and is mixed with some ingredients that can alter its flavour such as vinegar, cilantro, pepper, sugar or chilies. It was introduced in South Africa by the Dutch, who introduced the techniques of drying meat from Europe. The dish became very popular as it did not need refrigeration.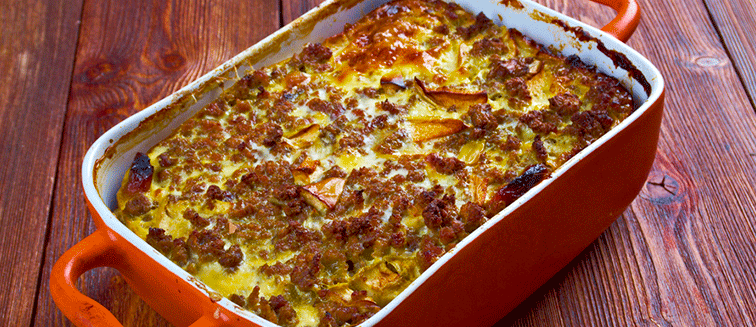 Bobotie
This dish, one of the most common and famous among the South African population, is a sweetmeat cake mixed with raisins, dried fruit and covered with a baked egg. Usually served with yellow rice and decorated with fruits such as bananas, or vegetables, the bobotie originates in the Jakarta colonies, which is why curry powder is often included in its flavouring.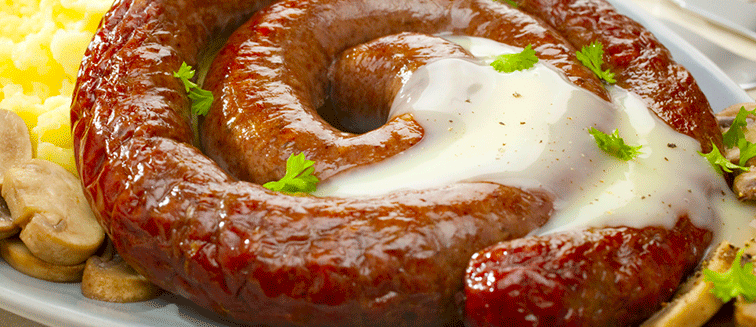 Boerewors
Boerewors are grilled sausages and are one of most popular and frequently eaten dishes in South Africa. They can be found in street food stalls and are often served at sports events or in restaurants. They are usually made with minced beef, although there are also pork and lamb versions, and they are seasoned with spices such as cilantro, nutmeg and black pepper. They are traditionally served in a spiral shape and are accompanied by pap, an African food that is very common in most of the country's dishes.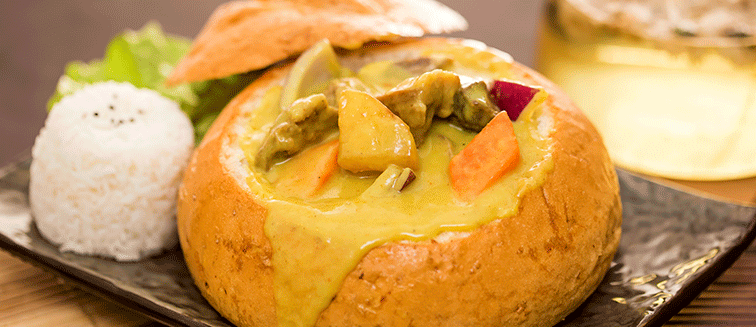 Bunny Chow
Bunny Chow is very popular with South Africans and consists of a bread roll filled with curry, It is a fast food that, despite its simplicity, can also be found in many restaurants made with different varieties of bread and even stuffed with meat or beans.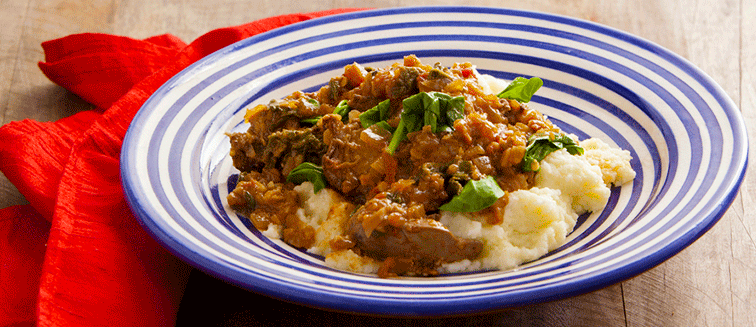 Isidudu
This common South African dish is made with traditional pap, a kind of cornmeal porridge, mixed with pumpkin, cabbage and beef liver. Depending on the establishment or restaurant, it may include sweet potatoes or may be served with milk or amasi, a fermented milk whose flavour is similar to that of fresh cheese or yoghurt.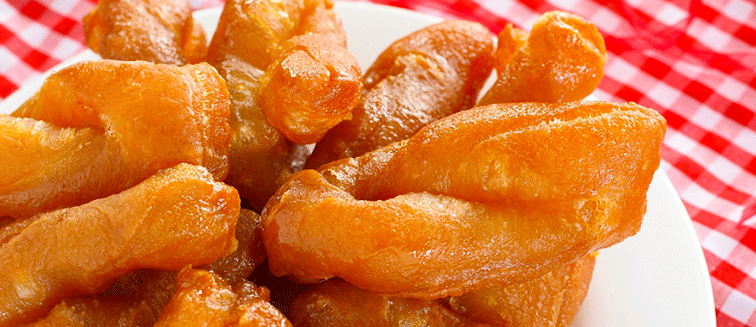 Koeksister
This sweet typical of South African cuisine consists of a bread roll covered with syrup. Its appearance and taste is very similar to that of a doughnut. For its preparation, the braided bread is fried in oil and then covered with sugar syrup. The result is a very sticky sweet roll that is eaten cold. This dish is originally from Cape Malays, an ethnic group from South Africa.
Mashonzha
A typical South African dish made of worms. Despite the strange ingredient, it is considered a delicacy that has a strong acceptance, especially in rural areas. Children and women are traditionally responsible for collecting the caterpillars found in the lower branches of the trees to later gut, boil them in salt water and dry them in the sun. This dish is rich in protein and has become a very popular snack among daring tourists.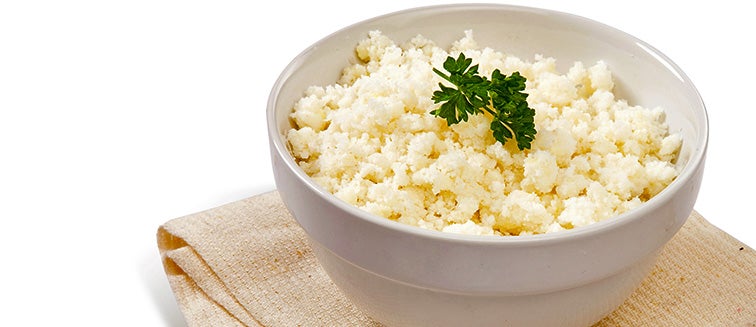 Pap
This accompaniment is similar to porridge but is made with corn flour. It is sometimes mixed with vegetables, milk and sugar, chilli or stewed, with meat and tomatoes. It can be served hot or cold, depending on the dish that it accompanies or as a breakfast food. Pap has its origin in the Bantu tribes of South Africa since it is part of their staple food and is very popular among the indigenous population.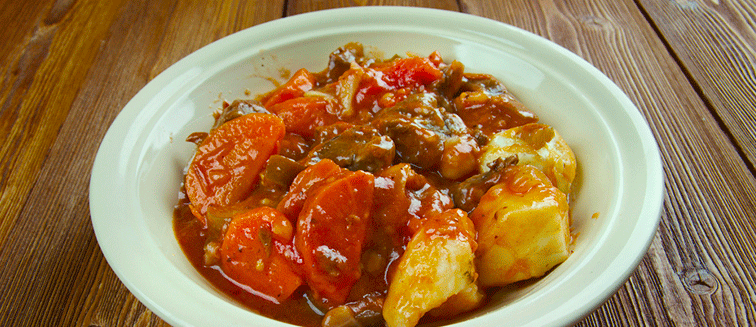 Potjekos
This stew, whose name refers to the casserole used during its preparation, includes meat, vegetables, rice and potatoes, which are slow-cooked. The origin of the potjiekos comes from the Dutch settlers, who introduced the western way of preparing stews. The dish is so popular and admits so many variations that in South Africa competitions are organized to find the best potjiekos.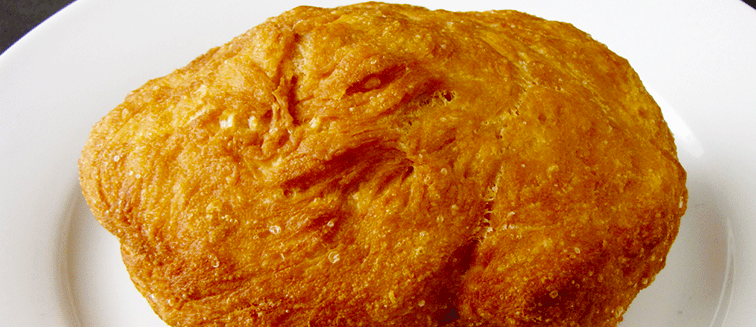 Vetkoek
Vetkoek is a dumpling stuffed with minced beef, sometimes jam, honey or syrup, which has become one of the most common fast food dishes in South Africa. It can be served both as a meal and as a dessert or as a side dish to boerewors, the typical sausage of the country. The vetkoek originates from the Afrikaners, the ethnic group of Dutch origin who settled in South Africa.
OUR BEST TRIPS TO SOUTH AFRICA