Call us for free now
Book with an expert for free:
+44 20 8068 3176
Prefer us to call you? Drop your number in the box:
24 hours a day, 7 days a week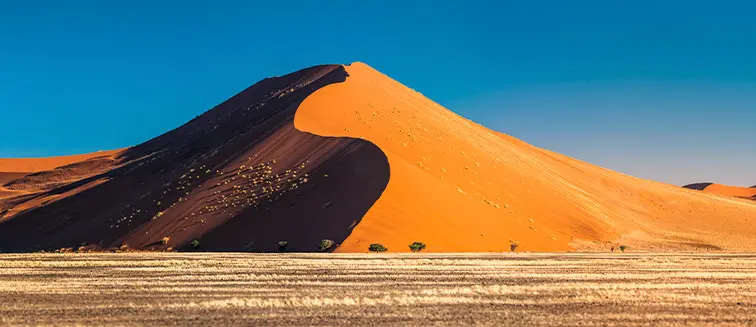 What to see in Namibia
Dune 45
Tourist attractions Dune 45
Dune 45 is one of the most famous and photographed dunes of Sossusvlei, located in the heart of the Namib Desert in Namibia. With a height of around 170 meters, its summit offers breathtaking panoramic views of the desert and its surroundings. Its name is believed to come from its location, as it is about 45 kilometers from Sesriem, the entrance to the Namib-Naukluft National Park.
What makes Dune 45 so special is its deep reddish color, which intensifies at sunrise and sunset, creating a stunning contrast with the surrounding sky and sand. It is also one of the most popular spots to watch the sunrise at Sossusvlei, as the sun's rays give the dunes a warm golden hue that creates a visually stunning spectacle. In addition, climbing to the top of the dune is a popular activity for tourists, who can experience the thrill of climbing on the sand and enjoy the views from the top.
OUR BEST TRIPS TO DUNE 45