Call us for free now
Book with an expert for free:
+44 20 8068 3176
Prefer us to call you? Drop your number in the box:
24 hours a day, 7 days a week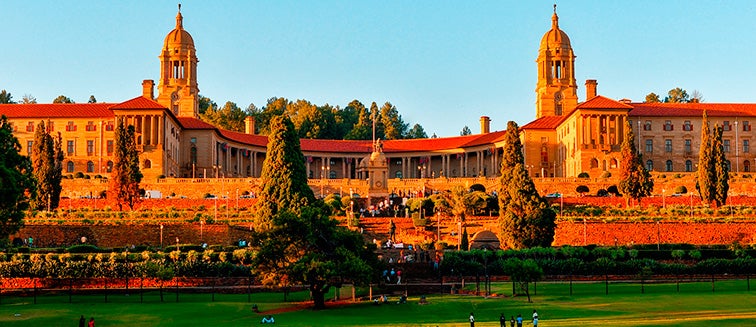 What to see in South Africa
Pretoria
Tourist attractions Pretoria
Jacarandas are beautiful trees that, when they flower, are thronged with petals of different shades of mauve. The administrative capital of South Africa is known for these trees, so when you decide to visit Pretoria, be prepared to see a city full of trees, flowers and gardens. Especially in spring, this city will make all your preconceived ideas about the African landscape disappear at a stroke.
Pretoria is in a valley at the foot of the Magaliesberg mountain range, on the Apies River. And in its streets you will find historical buildings, various monuments, museums and, of course, parks and gardens.
Visiting Pretoria: museums and monuments
Transvaal Museum
The Transvaal Museum is the oldest museum in South Africa, having opened in 1892. This is a natural history museum whose official name is the Ditsong National Museum of Natural History.
It was created to bring together collections of native populations of plants and animals, but also fossils and minerals. Not to mention elements associated with the era of European colonisation and the Boer War.
Current highlights include its collection of fossils dating from the Pliocene, including hominids from the dawn of humanity.
Fort Klapperkop
Fort Klapperkop is a truly majestic building that was heavily damaged during the Boer War. However, major restoration works of great historical accuracy were carried out and today it can be seen as it was at the height of its splendour,
It is one of the best examples of 19th-century military architecture in the world and it would be worth travelling to Pretoria just to see its German-influenced style. Today, it is also home to a major weapons museum that houses a large collection of artifacts from the war in which it was almost destroyed.
It still has a steam locomotive that was used to transport troops, and the last tram used in the city. It also functions as a memorial dedicated to South Africans fallen in battle.
Melrose House
Where else in the world can you find a Victorian mansion so seemingly out of context? The edifice was built in 1886 and entered the history books in the Second Boer War, when it was requisitioned by Lord Roberts and used as a command centre by the occupying British forces.
Converted into a museum, Melrose House now belongs to Pretoria City Council and forms part of the country's national heritage. It is a perfect example of the architectural transition from the Victorian to the Edwardian era and retains an impeccable interior that shows what the life was like at the end of the 19th century
Voortrekker Monument
The Voortrekker Monument is also part of South Africa's national heritage and is a mandatory port of call for travellers stopping in Pretoria.
This granite colossus is a little smaller than Napoleon's tomb in Paris, but its almost completely square shape and the fact that it stands alone in the middle of a green park make it an impressive building. It is surrounded by a wall decorated with wagons, which represent the colonising farmers.
Nelson Mandela Monument
It's not the only one in South Africa, but it's the biggest. This is a statue of President Mandela, one of the country's most respected figures, celebrated for his fight against apartheid. The statue is at the Union Buildings. It was here that Mandela made his first speech, in a setting that had been loathed precisely for representing racial segregation.
Travelling to Pretoria to stroll through its gardens
Pretoria National Botanic Garden
The 76-hectare Pretoria National Botanic Garden, located on the outskirts of the city, is a haven of peace that you'll want to visit after negotiating its hectic streets. Here you'll see why Pretoria is called "Jacaranda City". Prepare to be delighted by a host of species of shrubs, flowers, trees and all kinds of exotic plants.
National Zoo of South Africa
Not all zoos have 85 hectares of land perfectly arranged for a day out with the family. If you've decided to travel to Pretoria with the children, this is a perfect place for them to have fun and run around. This zoo has a mobile aviary, a terrarium with a stunning variety of reptiles and one of the most impressive aquariums on the African continent. As well as big cats, elephants and hippos.
Freedom Park
Freedom Park is a memorial dedicated to the soldiers who died in the wars South Africa has taken part in. This means the Boer Wars, naturally, but also the First and Second World Wars. It is a huge open-air monument steeped in symbolism and solemnity.
OUR BEST TRIPS TO PRETORIA