Call us for free now
Book with an expert for free:
+44 20 8068 3176
Prefer us to call you? Drop your number in the box:
24 hours a day, 7 days a week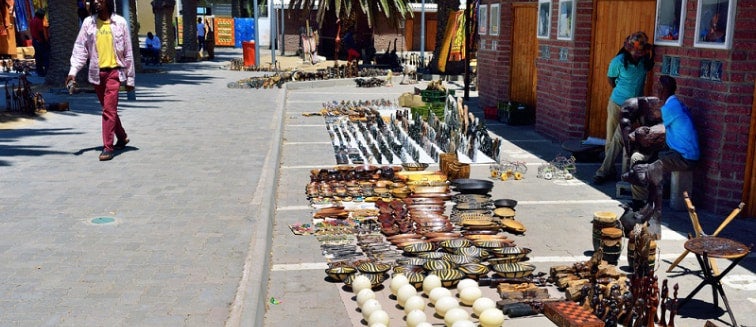 Shopping in Namibia
If you are looking for souvenirs from Namibia you should read this.
We are going to recommend what to buy in Namibia during your trip to this Southwest African country.  Its crafts are varied and colourful, so you are sure to take more than one souvenir home as a gift.
Before talking about the typical products to buy in Namibia, you should know that the crafts are very varied.  You will find fabrics, wooden objects, bowls, masks, dolls, and even typical food products of the country.
The souvenirs of Namibia are very original, so you won't be able to resist buying more than one thing in their markets.  Talking of markets, one of the best for shopping is the one in Swakopmund, also known for its German colonial architecture.
Crafts in Namibia
When it comes to buying souvenirs in the markets of Namibia, you have to bear in mind that bargaining is almost obligatory.  The initial price of the products is never what you should pay, so, if you negotiate with the artisan, you are sure to reach an agreement that benefits you both.
Wooden masks
We've all seen African wooden masks, many of them represent warriors or animals.  These masks, although they now sell them as souvenirs for tourists, have a religious meaning.  Most of them represent protective spirits, or also powerful animals.  Find out from the artisan about the meaning of the mask, so that it isn't just a decorative object.
Wooden bowls
It is quite common amongst the typical products of Namibia to find stalls full of wooden bowls. These bowls are hand crafted in different sizes and colours.  There are simple ones, coloured ones, and those with fine geometric drawings, and they are perfect to use in the kitchen.
Wooden figures
Throughout Africa there is an abundance of wooden figures of animals, especially elephants, but also of native Africans.  Normally, the figures represent warriors with their spears, or mothers with their babies.  They form part of the culture and traditions of the villages of the area, and for that reason, they are a perfect reminder of your trip to the country.
Fabrics
Another of the typical products to buy in Namibia are its multicoloured fabrics. They use them to make clothing, but there are also quilts, tablecloths and tapestries that you can take home as gifts.  The quality of these fabrics and the natural dyes gives them great value, which is why, more than a souvenir, they are an example of the traditional art of the region.
Bottle top magnets
Although magnets are the typical souvenirs we often take home as a reminder of our trip, the magnets form Namibia are different since they are made from old bottle tops.  Of course, they are hand painted with beautiful animal figures and bright colours.  They are one of the most original gifts that you will find to take home.
Wooden and rag dolls
If you really want something to buy in Namibia that enables you to take the essence of the country home with you, the dolls made by the tribes are the best choice.  There are ones made from wood, decorated with small beads of seeds, and also rag dolls, with traditional clothing.  The good thing about these souvenirs is that they are good for children as well as for the most sophisticated collectors.
Products made with macalani seeds
Namibian artisans use macalani seeds (a species of native palm tree) to make different objects.  The result is very pretty small carved spheres which are decorated by hand, that can take the form of keyrings, bracelets or necklaces.  They are undoubtedly the most practical and cheapest gifts you will find anywhere in Namibia.
Musical instruments
But if you really want to make a difference, musical instruments are the best option amongst the things to buy in Namibia. You can choose between drums, flutes, string instruments, rattles and marimbas.  The marimbas are perhaps only for music lovers, since it is a percussion instrument similar to the xylophone, of considerable dimensions.
Dry meat
Biltong is a dry meat whose flavour is similar to jerky, the uniqueness of this souvenir from Namibia is that it is made of various types of meat.  During its preparation, beef, ostrich and antelope meat is used.  It is bought by the weight and cut into slices, and they vacuum pack it so that it doesn't lose its flavour.
Namibian wine
If you are a wine lover, what better thing to take home as a souvenir than a good melon wine or mataku.  This wine is one of the most widely consumed and valued traditional drinks in Namibia.  Another option is walende, for the most daring, it's similar to vodka in flavour and alcohol level. And to surprise the more extravagant, buy a bottle of ontaku as a gift, made of fermented millet.
Here you have a guide to the most typical products to buy in Namibia during your visit.  This country will leave a beautiful trace in your eyes as well as the heart and the palate.
OUR BEST TRIPS TO NAMIBIA