Call us toll-free now
Book with an expert for free:
1-888-488-0592
Prefer us to call you? Drop your number in the box:
24 hours a day, 7 days a week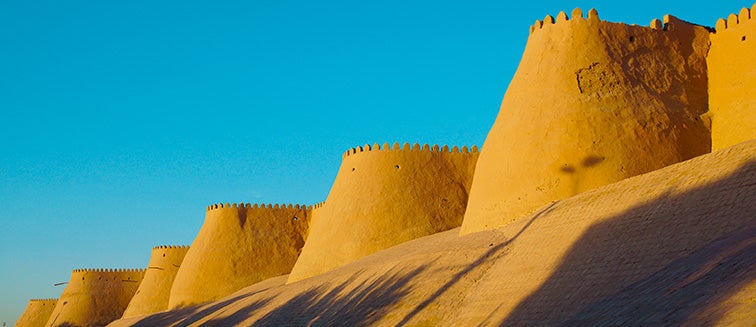 What to see in Uzbekistan
Khiva
Tourist attractions Khiva
A city so well preserved, it has been called a 'museum city', Khiva, is bursting with immaculate minarets and madrasas and a labyrinth of narrow streets, neatly tucked into the walled section of the city known as the Itchan-Kala, literally meaning 'within the wall'. Outside of the city walls lies the more modern side of Khiva, where most of the small population of 3,000 live. Khiva is popular with foreign and local tourists alike, thanks to the splendor of its old town and its historical significance. Khiva was one of Uzbekistan's major Silk Road cities, once a slave-trading post with a brutal past of conquest and war.
The glistening jade dome of the Juma Minaret crowns the city and rises above the otherwise largely low-rise buildings of the old town. Climb up the minaret for a dazzling view across the city and out across the dusty landscape, although the winding staircase requires some stamina. The streets inside the walls are the parts of the city that most visitors come to explore. It is easily walkable and around every turn, mosaiced buildings invite the traveler to discover their stories. In the city's main bazaar, coffee, carpets, and camels, the typical wares of the region, are bartered for, as if nothing has changed since the days of the Silk Road.
Declared a World Heritage Site by UNESCO in 1990, the city walls are perfectly sculpted to deter invaders of times gone by. Unmissable sights inside the ancient walls include Dvorets Tash-Khauli, the Kuhha Ark museum and the imposing yet beautiful Mohammed Amin Khan Madrassah. The Kalta-Minor Minaret is an impressive sight; a perfectly curved tower adorned with various patterns that wrap around the facade. Khiva is easily reached from the regional capital of Urgench, making it the perfect day trip destination although the historic center is home to an array of charming guesthouses and hotels. If you want to feel like you have stepped back in time, stay the night in Khiva and watch the sunrise over the city, illuminating the glistening facades of the mosaiced buildings.
Copyright 2013-2023 Exoticca. All Rights Reserved.
80 Southwest 8th Street Brickell Bayview, Miami, FL 33130, United States