Call us toll-free now
Book with an expert for free:
1 778 807 9750
Too much? We'll call you. Drop your number in the box:
24 hours a day, 7 days a week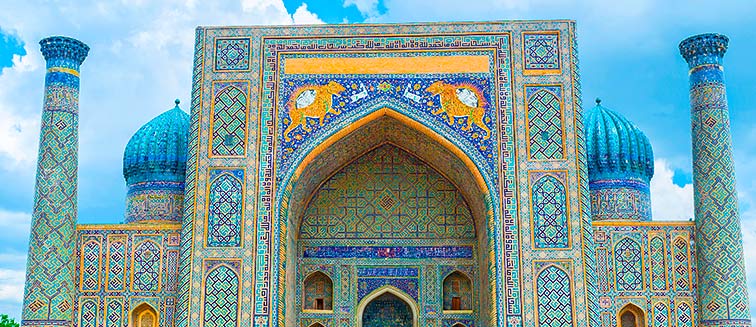 What to see in Uzbekistan
Samarkand
Tourist attractions Samarkand
Immortalized in the poetry of Lord Byron, among others, Samarkand is perhaps one of the best known and popular of Uzbekistan's Silk Road Cities. As old as ancient Rome, the city is one of the oldest continuously inhabited cities in Central Asia, prospering in the medieval centuries from the influx of traders passing by on the long road to and from Asia and the Mediterranean. A crossroads of world cultures, Samarkand has undergone a myriad of religious and cultural changes over the years, and today there are still Buddhist temples in the city, dating back to at least the 8th century, alongside the many Islamic mosques and madrassas. Persian is predominantly spoken here although Russian is frequently heard.
The city is divided into an old and new town and the leafy tree-lined avenues of the Russian quarter contrast with the majesty of the Shah-i-Zinda, or Avenue of Mausoleums, in the Old Town, a burial place for kings of days gone by and a popular site of pilgrimage. The electric blue hues of the impressive madrasas and mosques are sure to capture the imagination of any traveler. The Shah-i-Zinda is considered one of the most impressive sites in all of Samarkand.
The focal point is Samarkand's Registan Square, a three-sided plaza featuring imposing madrasas, domed minarets, and mosques. It was once the cultural center of the city, a place of education, worship and gathering and it is home to Emperor Timur's tomb, the founder of the Timurid Empire in Central Asia.
The Ulugh Beg Madrasa, an educational institution and another building bordering Registan Square, is unmissable and humbling in its intricate decoration, both on its exterior and interior. If you desire a taste of authentic Samarkand, you cannot miss the Urgut Market. A little off of the usual tourist route, the market is the perfect place to pick up a Silk Road souvenir or a beautiful locally weaved Persian carpet whilst soaking up the old-world charm and unique atmosphere.
We don't have any trips to Samarkand at the moment.
Subscribe to our newsletter to not miss any trips
In compliance with the Data Protection Regulation, we inform you about your rights in our privacy policy and Cookies policy
Copyright 2013-2023 Exoticca. All Rights Reserved.
Exoticca Travel Canada Inc 229 Yonge St Suite 400 Toronto, Ontario M5B 1N9 Canada