Call us toll-free now
Book with an expert for free:
1 778 807 9750
Too much? We'll call you. Drop your number in the box:
24 hours a day, 7 days a week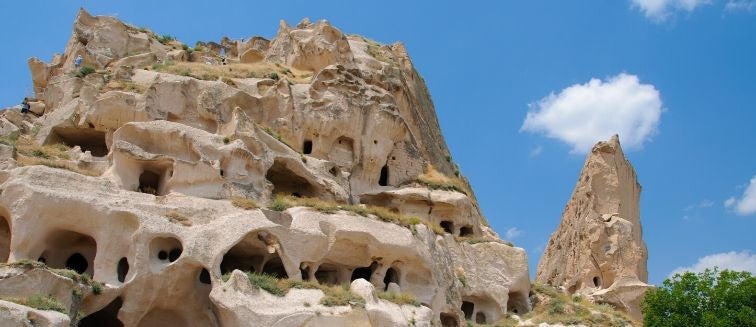 What to see in Turkey
Kaymakli Underground City
Tourist attractions Kaymakli Underground City
One of Cappadocia's largest underground cities and most captivating attractions, the labyrinthine maze of subterranean caves and passages that make up Kaymakli Underground City offer a keyhole into the hidden world of Turkey's ancient troglodyte communities. Thought to date back to Hittite times, it is thought to have housed more than 3000 inhabitants at its peak and, over the centuries, the underground complex has been expanded, spanning across 8 storeys deep underground.
Throughout the conflicts waged across Europe and Asia, persecuted communities, namely Christians, found shelter in this underground city and used it to hide safely from their persecutors. Visitors who take a trip to Kaymakli Underground City today, which is easily accessible from Göreme, can access only 4 levels but the effect is still breathtaking. Kaymakli is a masterpiece of early rock architecture, carved deep into the soft volcanic earth. Comprised within this mind-bending subterranean world are wineries, stables, dwellings, a church, kitchens and storage rooms, some of which are still used by locals of Kaymakli today.
Archaeologists have also uncovered an impressive tunnel system which links the underground city of Kaymakli with Derinkuyu, 9 kilometres away. If you visit Kaymakli Underground City you'll find it to be well lit and fairly accessibility, making it less claustrophobic than over cave complexes in the region. Each of the four floors is organised around ventilation shafts and taking a guided tour of Kaymakli is the best way to learn about the different sections and the way of the life of its ancient inhabitants, who are thought to have abandoned the site in around the 14th-century, although Cappadocian Greeks may have used the caves intermittently to take refuge during waves of Ottoman persecution in the early 20th-century.
OUR BEST TRIPS TO KAYMAKLI UNDERGROUND CITY
Copyright 2013-2023 Exoticca. All Rights Reserved.
Exoticca Travel Canada Inc 229 Yonge St Suite 400 Toronto, Ontario M5B 1N9 Canada