Call us toll-free now
Book with an expert for free:
1 778 807 9750
Too much? We'll call you. Drop your number in the box:
24 hours a day, 7 days a week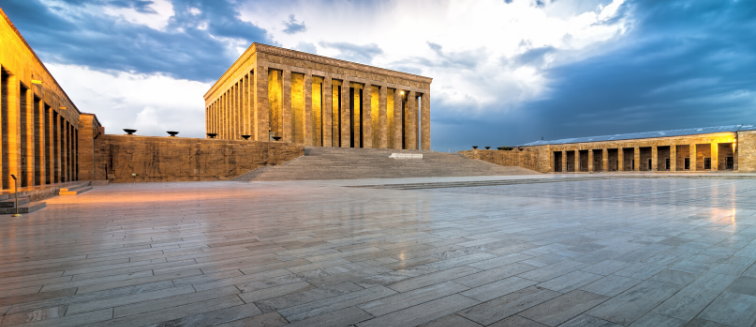 What to see in Turkey
Ankara
Tourist attractions Ankara
Ankara is the beating heart of Turkey. It is the capital city, a centre of Turkish politics and home to a huge student population. Although Ankara may be Istanbul's more modern counterpart, it holds a fascinating history behind its concrete facade. Sometimes wrongly overlooked, a trip to Ankara is sure to be a rewarding insight into authentic Turkey. From the Mausoleum of Ataturk to the gigantic Kocatepe Mosque and the medieval remains of Ankara Castle, travel to Ankara to fill your boots with fantastic insights into Turkish culture and heritage.
The legacy of civilisations as diverse as the Hittites, Persians, Greeks, Romans and Byzantines are still present throughout the city's impressive archaeological sites, making Ankara a paradise for budding historians, whilst countless museums, a booming restaurant scene and a vibrant, gritty street life gives Ankara all the appeal you'd expect from a thriving capital city. Once a modest provincial town, following the establishment of the Republic of Turkey, Ankara grew and grew, becoming a purpose-built capital due to its location at the centre of the nation.
Each neighbourhood has it's own distinct vibe, from hip and trendy Kizilay, filled with fashionable students, to the cultural hub of Cankaya. A city of contrasts, you'll still find traditional bazaars in the old town, but with the added bonus of being able to dine on international cuisine and zip between sights on the city's metro system. Travel to Ankara and discover a forward-looking Turkey, a world away from the paradise beaches of the resort towns and the well-trodden streets of Istanbul. 
What to see in Ankara
Ankara is home to a range of sights to suit all tastes and a fascinating mix of things to see that help visitors explore a multitude of fascinating aspects of Turkish culture and history. 
Many visitors travel to Ankara to visit Anikabir, the mausoleum of Mustafa Kemal Ataturk, the much-loved founder of the Republic of Turkey. An imposing structure, combining influences of ancient Anatolian and Turkish design, it's worth giving yourself enough time to explore the extensive underground museum to learn about Ataturk and Turkish heritage. 
Ankara is well known for its museums but one stands out as the city's most popular: the Museum of Anatolian Civilisations. Home to artefacts dating back to Paleolithic times, it's one of the country's finest museum and helps visitors to learn much about Anatolia's complex history. 
Standing high above the modern city lies one of Ankara's most impressive sights, Ankara Castle. An icon of the city and one of the best things to see in Ankara, the castle and it's walled citadel dates back to medieval times and has remained a feature of the city through civilisations as varied as the Romans, Ottomans and Seljuks. Inside the walled fortress is a well-preserved medieval town, complete with market squares, houses, a mosque, a traditional inn and an informative museum. Ankara Castle is a little slice of the simplicity of yesteryear amidst the fast-paced atmosphere of modern Ankara.
One of the city's more contemporary sights is the Kocatepe Mosque, a jewel of the city and a highlight of any tour of Ankara. It's spectacular, 88-metre-high minarets and layered-dome is a symbol of the city's skyline and its vast interior can accommodate an impressive 24,000 worshippers!
If you want to mingle with the locals, a great place to visit in Ankara is Genclik Park, a centre of social life in the city. This huge park is home to a fairground, countless kiosks selling delicious Turkish food, a swimming pool and, at nightfall, the lake comes alive with a magical illumination show. You can easily while away much of a day wandering through Genclik Park, people-watching and stopping for coffee at the cafes which overlook the central lake. 
Copyright 2013-2023 Exoticca. All Rights Reserved.
Exoticca Travel Canada Inc 229 Yonge St Suite 400 Toronto, Ontario M5B 1N9 Canada