Call us toll-free now
Book with an expert for free:
1 778 807 9750
Too much? We'll call you. Drop your number in the box:
24 hours a day, 7 days a week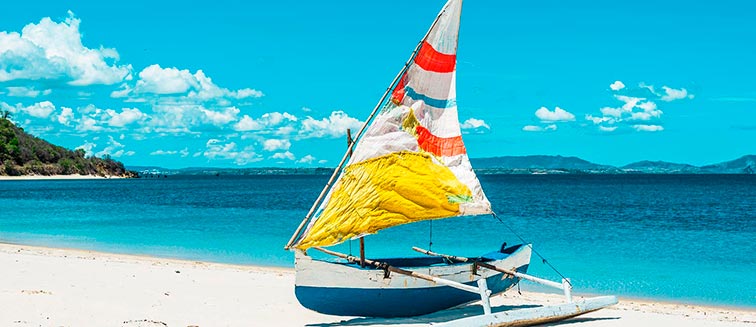 What to see in Madagascar
Ifaty
Tourist attractions Ifaty
This delightfully laid-back coastal region in southwestern Madagascar is actually comprised of two small fishing villages: Ifaty and Mangily. Situated 25 kilometres north of the port town of Tulear, Ifaty has become popular with tourists thanks to its golden stretches of coastline and fantastic underwater world, best explored on a snorkelling trip! Despite its increasing popularity with both national and international tourists, Iftay retains a simple, rural atmosphere, so don't expect the kind of amenities found in larger Madagascan towns. 
The local population are the Vezo community, a people with strong links to the sea and fishing, something which you're sure to notice as you watch the boats come and go if you travel to Ifaty. You'll find a wide selection of beachside resorts here, where you can comfortably suspend a few days relaxing after touring the wildlife attractions and landscapes of Madagascar. 
Ifaty sits on the shores of the Mozambique Channel and is a brilliant destination for scuba diving and snorkelling thanks to the nearby Great Reef of Madagascar, which supports a rich array of underwater life. Sharks, turtles and tropical fish are found in abundance in the calm, turquoise waters of Ifaty. Furthermore, this sleepy region is known as the whale-watching capital of Madagascar and between June and September, you might be lucky enough to sight migrating humpback whales. You can visit Ifaty at any time of the year as the region enjoys warm sunshine all year round.
Things to see in Ifaty
If you visit Ifaty you'll want to make the most of its wild, untouched beaches. From Andavadoaka in the north to Itambolo in the south, Ifaty's coastline is characterised by idyllic stretches of gold-sand beaches, lapped by clear, turquoise waters. Many of the beachside resorts provide loungers and deck chairs where you can sit and while away the day watching the gentle waves and the local fishermen coming and going. 
If you are looking for a little more adventure, pay a visit to Renaiali Reserve, one of the few natural parks in the area. This thorny forest reserve is known for its spiky trees and unique floral species. You'll also have the chance to see mighty baobab trees, set against the backdrop of a desert-like landscape. 
Finally, one of the best things to do in Ifaty is to make a short trip south to the bustling port town of Tulear. Well worth a day trip or an evening visit for dinner whilst staying in Ifaty, Tulear is home to museums and good tourist facilities such as ATMs and local shops. It's also a great place to get to know the local culture and sample an array of cuisines in its many restaurants.
Copyright 2013-2023 Exoticca. All Rights Reserved.
Exoticca Travel Canada Inc 229 Yonge St Suite 400 Toronto, Ontario M5B 1N9 Canada