Call us toll-free now
Book with an expert for free:
1 778 807 9750
Too much? We'll call you. Drop your number in the box:
24 hours a day, 7 days a week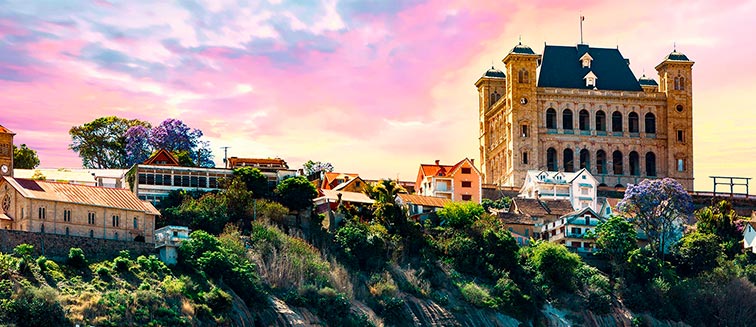 What to see in Madagascar
Antananarivo
Tourist attractions Antananarivo
The capital of Madagascar, Antananarivo is a vibrant, colourful city, nestled high in the hills of the Analamanga region. Known affectionately as 'Tana', this capital city was founded in the early 17th-century and became the first unified Kingdom of Madagascar in 1810. The centre of Madagascan politics, Antananarivo sits at 1,280 metres above sea level and is, by far, the largest population centre in the country. To uncover and understand the complex history of Madagascar, a trip to Antananarivo is a must! 
At the heart of Tana is the turquoise Lac Anosy, bordered by beautiful Jacaranda trees that spring into bloom every October. With brilliant, diverse eateries, cultural sights and an array of charming artisan boutiques and market places, travel to Antananarivo to experience the unique landscapes of urban life in Madagascar.
Of course, the capital is sometimes overlooked in favour of Madagascar's amazing natural sights and wildlife, but Tana is a great place to base your explorations or at least spend a few days getting to know the local culture. Although it is not well-trodden by tourists, this is part of the appeal. Nowhere else on the island can you get a better feel for modern Madagascan life. Furthermore, the historic heart of the city contains fabulous examples of French-colonial architecture and Tana's situation, sprawled across two hillsides, makes for some pretty spectacular views. 
Things to see in Antananarivo
If you're visiting Antananarivo there are a range of things to see to gain a better understanding of the history of this capital. The Rova is one of the best places to visit in Antananarivo. Once the home of the sovereigns of the Kingdom of Imerina, this 17th-century royal palace complex is a must-see. Overlooking the city from the top of Haute-Ville, it's an icon of Tana's skyline. A guided tour of this historic palace provides an enlightening insight into the complex history of the city.
Another important historical site is the Royal Hill of Ambohimanga. Considered an important embodiment of Malagasy cultural identity, this UNESCO World Heritage Site is a spiritual centre and place of pilgrimage. Perched atop one of the twelve sacred hills of Imerina, the complex consists of royal buildings, ritual sites, a sacred forest and a royal burial ground. One of the best things to see in Antananarivo, it's a fascinating place to visit to understand the practice of ancestor worship at the heart of Malagasy culture. 
For a more contemporary look at Malagasy culture, head to bustling Analakely Market to experience local life. On the site of the once-legendary Zoma Market, this bustling market sells everything from local produce and crafts to second-hand clothes. Although it can get extremely crowded, there's no better place in Antananarivo to get a taste of life in the capital
Finally, you cannot travel to Madagascar without seeing the local wildlife. Lemurs' Park, is a conservation centre, 22 kilometres west of the capital. Home to Madagascar's most famous inhabitants, here you can get up close to nine different species of lemurs. A great place to visit for an introduction to Madagascan wildlife before heading out into the wild for further exploration!
OUR BEST TRIPS TO ANTANANARIVO
Copyright 2013-2023 Exoticca. All Rights Reserved.
Exoticca Travel Canada Inc 229 Yonge St Suite 400 Toronto, Ontario M5B 1N9 Canada