Call us toll-free now
Book with an expert for free:
1 778 807 9750
Too much? We'll call you. Drop your number in the box:
24 hours a day, 7 days a week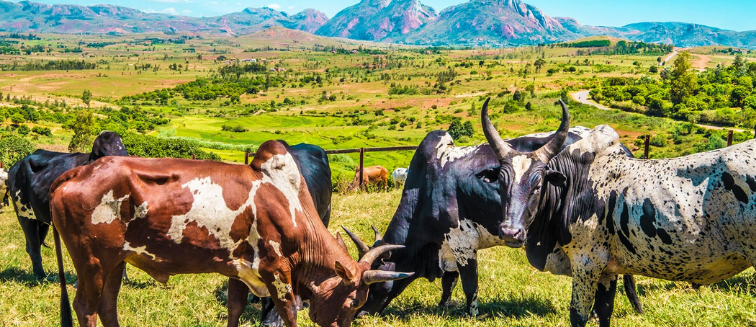 What to see in Madagascar
Ambatolampy
Tourist attractions Ambatolampy
This small rural town, nestled in the heart of the Central Highlands, is a gateway to the charms of the Madagascan countryside. Surrounded by green hills, Ambatolampy is situated on the RN7 highway, making it a perfect stop on the popular route between Antananarivo and Antsirabe. This quiet town, home to just over 25,000 inhabitants, is famous for its traditional aluminium crafts, with local artisans creating all kinds of tools, cookware and artworks out of this versatile metal. 
A variety of family-run foundries offer the chance to see these age-old traditions for yourself and make for an interesting visit if you travel to Ambatolampy. Copper and bronze goods are also produced here. Surrounded by pretty streams and rivers, trout farming is another important industry in this charming hill town, alongside rice cultivation and cattle farming. 
A trip to Ambatolampy is the opportunity to encounter an authentic picture of rural life in Madagascar. With a temperate climate, it is also a popular destination for hikers, who can head out and explore the nearby Ankarana Mastiff. In fact, Ambatolampy enjoys the coolest temperatures in the entire country.
Things to do in Ambatolampy
Undoubtedly, one of the most popular things to do in Ambatolampy is to visit its famous aluminium foundries. Working with traditional methods, the foundries of Ambatolampy produce all kinds of wares, from cooking utensils to knick-nacks, making them the perfect place to pick up a unique souvenir of your time in Madagascar. Most of the aluminium products in the country are crafted in this small town. It's commonplace for the local community to collect scraps of aluminium in order to melt them down into new objects, meaning that many of the objects produced here are 100% recycled and recyclable. 
Other things to do in Ambatolampy include hiking in the surrounding countryside and simply enjoying the slower pace of life in this beautiful corner of Madagascar!
OUR BEST TRIPS TO AMBATOLAMPY
Copyright 2013-2023 Exoticca. All Rights Reserved.
Exoticca Travel Canada Inc 229 Yonge St Suite 400 Toronto, Ontario M5B 1N9 Canada