Call us toll-free now
Book with an expert for free:
1-888-488-0592
Prefer us to call you? Drop your number in the box:
24 hours a day, 7 days a week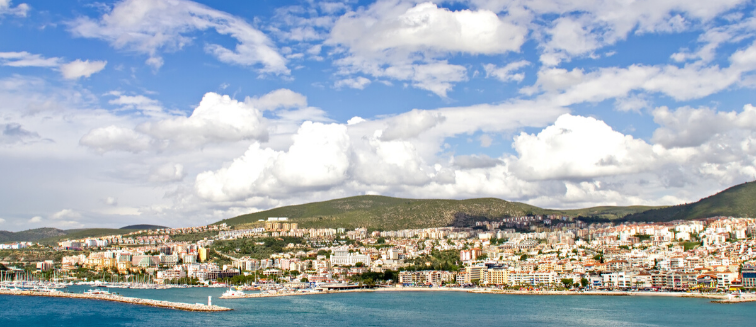 What to see in Turkey
Kusadasi
Tourist attractions Kusadasi
A coastal resort town on Turkey's western Aegean coast, Kusadasi offers all the much-loved beach vibes and holiday atmosphere, along with a smattering of cultural sights. More than just breezy blue shorelines and beach bars, Kusadasi is the gateway to ancient ruins such as Ephesus and Priene, and the gorgeous landscapes of the Dilek Peninsula. Holidays to Kusadasi have long been popular with holidaymakers who wish to lounge on its the sandy beaches and enjoy the warm warms of the Aegean Sea, but many visitors are unaware of the regions rich artistic and cultural heritage.
Settled by civilisations as ancient as the Leleges and Ionians, and as diverse as the Persians and Romans, there's a long and fascinating history along this picturesque stretch of coastline. Foodies are well catered for with restaurants serving both delicious Turkish fare and international cuisine, whilst accommodation ranges from high-end to budget-friendly, with plenty of options for both families and couples, who long for the romance of this beautiful part of Turkey. Many visit Kusadasi as part of a cruise, as it's a major port for large ships, and Kusadasi's beachfront promenade is lined with bars and restaurants, making it a holiday paradise. Whether you want the simplicity of a relaxing holiday resort or are searching for a comfortable base for further exploration in western Turkey, a holiday to Kusadasi is an excellent choice.
What to do in Kusadasi
There's plenty of sights and attractions to fill your trip to Kusadasi, both in and around the resort. Within the town itself, you'll find the Kaleici Mosque, which dates back to Ottoman times, when it was built by Grand Vizier Okuz Kara Mehmed Pascha in the 17th-century. Another relic built by the Grand Vizier is the impressive Kusadasi Caravanserai, one of the most popular sights in Kusadasi. Constructed in 1618 as a customshouse, it is an imposing walled citadel, today used as a hotel with an open-air restaurant located in its bright courtyard. Here, you can get a taste of Turkey's Ottoman past. Another of the things to see in Kusadasi is Pigeon Island, an icon of the town's coastline. Connected to the mainland by a causeway, Pigeon Island is home to an Ottoman-era castle and a number of public beaches. Visit Pigeon Island to soak up beautiful views of the town and shoreline. 
Further afield, a day trip from Kusadasi brings you face-to-face with some of the most impressive ancient cities in the country, one of which is Priene. An ancient Greek city, today this magical archaeological site showcases the best of Hellenistic architecture. Here, you can meander through ruined temples, amphitheatres and columns, imagining the glorious days of the ancient Greeks. Highlights of Priene include the Temple of Athena and the Bouleterion, once serving as the meeting place of the council. If you'd rather get in touch with the beautiful landscapes of Turkey, visit the Dilek Peninsula, an area of outstanding natural beauty, filled with rugged beaches and mountain scenery. Easily accessible from Kusadasi, it's the perfect day trip for those longing for a slice of tranquil nature. 
OUR BEST TRIPS TO KUSADASI
Copyright 2013-2023 Exoticca. All Rights Reserved.
80 Southwest 8th Street Brickell Bayview, Miami, FL 33130, United States