Call us toll-free now
Book with an expert for free:
1-888-488-0592
Prefer us to call you? Drop your number in the box:
Mon. to Fri.: available 24-hours Sat. and Sun.: 3:00 a.m. - Midnight (EST) Or call your preferred Travel Advisor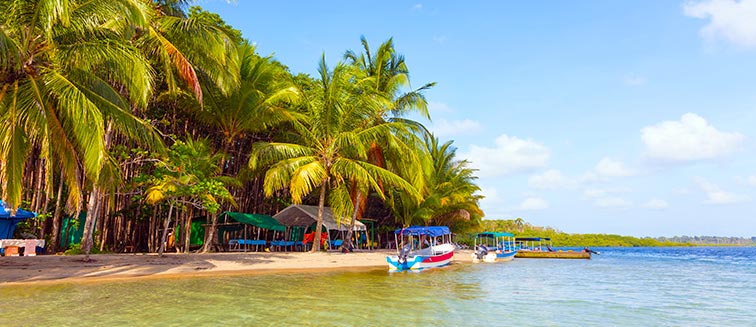 What to see in Panama
Bocas del toro
Tourist attractions Bocas del toro
The province of Bocas del Toro is composed of an archipelago and chain of islands which sit in the Caribbean Sea, off the coast of Panama, as well as part of the mainland, covered in rainforest. It is a place of outstanding raw natural beauty, whilst also being developed enough to ensure it is the most popular beach destination in the whole of Panama. There are 9 large islands, which are the most visited parts of the province and the main island is Isla Colon, where you can find Bocas Town, with hotels, amenities, restaurants, lively nightlife as well as residential areas. Other major cities in the archipelago include Almirante and Changuinola.
Discovered in 1502 by Christopher Columbus and his crew whilst they were searching for a passage to the Pacific, the archipelago is loved by backpackers who head for the numerous eco-lodges and holidaymakers who can choose from an array of luxurious beach resorts. With a tropical climate, and no distinct dry season, you can expect bursts of rain throughout the year, but even this cannot take away from the spectacular natural beauty of the region. The archipelago is just a short flight away from Panama City and once there, almost all travel between islands can be made by water taxis, the best way to search for secluded beaches and paradise coves.
The islands began being built upon in the early 20th century when the United Fruit Company began cultivating banana crops in the archipelago. There is a large population of West Indians, so you can expect there to be a distinct Caribbean flavor and a laid-back atmosphere. You'll see plenty of Caribbean-style clapboard houses, perched upon the turquoise waters on stilts and decorated in an array of vibrant colors.
Bocas del Toro is a natural nature sanctuary, sometimes named as the 'Galapagos of the Caribbean'. Here, nature abounds as dolphins, colorful coral reefs and a rich marine life populate the warm waters. It is home to two national parks, the first of which, La Amistad International Park is a UNESCO World Heritage site, situated on the border between Panama and Costa Rica. The second, Isla Bastimentos Marine National Park stands out for its amazing underground river, where visitors, traveling in canoes, can pass through caves filled with bats and sleepy rivers lined by rainforests populated by lazy sloths. One of the highlights of Bocas del Toro is to visit the famed Starfish Beach, on Isla Colon, where colorful starfish sit on the ocean floor under the shallow waters in huge numbers creating a unique sight that nature lovers can only dream of experiencing.
With a relaxed, community atmosphere and an array of adventure and water sports, including surfing, something Bocas del Toro is becoming increasingly popular for, this part of Panama is a paradise of white sandy beaches, azure waters and a number of idyllic islands to choose from. Being so close to Costa Rica, tourists are able to cross an old railway bridge that connects the two countries and enjoy the delights on both sides of the border. A holiday to Bocas del Toro is the perfect paradise escape, where you're sure to leave amazed by the beauty of untouched nature and relaxed from the carefree atmosphere of this charming archipelago.
OUR BEST TRIPS TO BOCAS DEL TORO
Tourist attractions panama
Copyright 2013-2023 Exoticca. All Rights Reserved.
80 Southwest 8th Street Brickell Bayview, Miami, FL 33130, United States