Call us toll-free now
Book with an expert for free:
1-888-488-0592
Prefer us to call you? Drop your number in the box:
24 hours a day, 7 days a week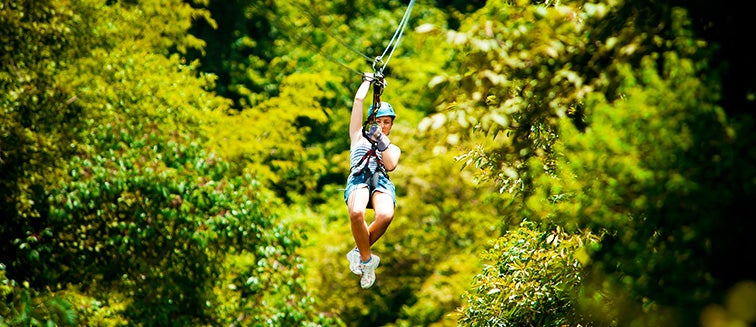 What to see in Costa Rica
Monteverde
Tourist attractions Monteverde
One of the great attractions of Costa Rica is its rainforest, the foliage of dozens of shades of green and the great diversity of fauna in its interior. If that's what you're looking for, the best idea is to travel to Santa Elena and Monteverde, both in the central zone of the country, which is classified as a biological reserve. What's the best way to get to know the place? Walking along the 13 kilometers of authorized trails. When you get there, don't be fooled by the apparently unspectacular landscape. Beauty, in this case, lies within. 
Visiting Monteverde for adventure tourism
How do you get to know a rainforest if not by going into it? One fun way to do it is to go on a zip wire. The activity in question was invented in Monteverde and consists of hooking yourself onto a steel cable and sliding from one point to another at the top of the well-known Cloud Forest. 
It is a way of integrating, in the fullest sense of the word, into the landscape. 
But if you prefer to get to know the rainforest in a slightly less animated way, hiking is still your best option. 
Monteverde Biological Reserve
Traveling to Monteverde and visiting its Biological Reserve is a must. The ten square kilometers (ten hectares) of the rainforest, are well worth it. Nowhere else will you see a greater density of orchids or 400 species of birds with spectacular plumage. They include quetzals, toucans, and hummingbirds. 
You will not need a guide to visit it, as the famous 13 km of trails are very accessible for people in any physical condition and are well signposted. Perhaps the best known and most popular of these, but no less beautiful on that account, is La Ventana.
And if the tree-lined trails are not enough for you, you can explore the forest by walking from treetop to tree top thanks to the skywalk: a path built through the tree canopy. It's very safe and made of metal, so don't worry about heights.
In the reserve, there are three places of special interest besides the trails. If you've taken the time to visit Monteverde you'll be interested in seeing its butterfly, frog and snake sections. The frog section is particularly rich in amphibians. There's a reason why Costa Rica is often associated with the cute orange-footed green frog.
It also has a beautiful waterfall, which we recommend you visit.
Santa Elena Reserve
Continuing the nature tourism theme, the Santa Elena Reserve is slightly different from the previous one. Its aim is to develop ecological tourism focused on research and on conservation of the cloud forest. The reserve is run with a participatory management model and encourages the sustainable use of natural resources. 
The Santa Elena Reserve has five trails that you can hike during the day and also at night. You can also use a zip wire here and take a tour of rope bridges. 
Find the hollow tree!
To find this tree, with its strange twisted shapes and a hollow interior, you'll have to ask when you are in the area. If you manage to find it, you'll have fun climbing its odd branches.
Children's Eternal Rainforest (Bajo del Tigre)
Children and adults from 44 countries made it possible to open this private reserve, one of the largest in the country belonging to a non-profit organization. Its climate is a little drier than the cloud forest, despite being less than 2 km away from it, and this fact makes the species of plants and animals you find here different. 
Curi-Cancha National Wildlife Refuge
This refuge was created in the late 1990s and its objective was to protect the cloud forests of the Tilarán mountain range. If you want to get away from the bulk of fellow tourists, this is your destination. It is neither as well-known or as promoted as the other reservations, but it harbors the same abundance as they do. Also, being less busy, it's easier for you to see the shy birds, which tend to hide in the busiest reserves.
Don't forget the settlement of Monteverde!
It has only 700 inhabitants, so don't expect to find wide avenues, but take a moment to walk around its streets and stop for a drink in one of its bars. If you can, try some of the local dishes. Sabor Tico prepares delicious rice with beans and vegetables and is very close to the bus station. Lucia's restaurant offers delicious homemade ceviches.
OUR BEST TRIPS TO MONTEVERDE
Copyright 2013-2023 Exoticca. All Rights Reserved.
80 Southwest 8th Street Brickell Bayview, Miami, FL 33130, United States