Call us toll-free now
Book with an expert for free:
1-888-488-0592
Prefer us to call you? Drop your number in the box:
24 hours a day, 7 days a week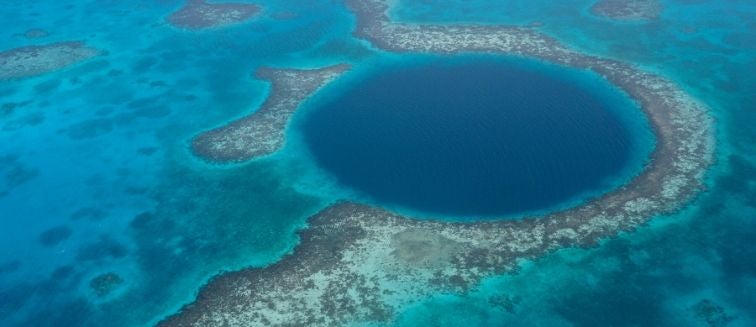 What to see in Belize
Belize Barrier Reef
Tourist attractions Belize Barrier Reef
Described by Charles Darwin as the 'most remarkable reef in the West Indies', the UNESCO World Heritage protected Belize Barrier Reef is one of the premier attractions of the country. In fact, it is part of the second largest reef system in the world, after Australia's Great Barrier Reef. This 300-kilometre section of the Mesoamerican Reef System is home to an impressive 106 coral species and 500 fish species, although it is estimated that only 10% of the reef has been properly accounted for so far.
A holiday to Belize is incomplete without a visit to the reef, either on a boat or getting up close to the reef action by snorkelling or scuba diving. A true diver's paradise, it attracts master divers from around the world, although even novices can enjoy the underwater world of the Belize Barrier Reef. The majority of the reef system is protected and the destructive bottom-trawling fishing technique has been completed banned by the Belizean authorities in order to help preserve the reef and its ecosystem.
The largest and most intact reef in the western hemisphere, the Belize Barrier Reef is perhaps most famous for the Great Blue Hole, a giant marine sinkhole, close to the Lighthouse Reef Atoll. From above, this giant sinkhole looks like a perfect dark blue circle, contrasted against the turquoise waters of the Caribbean Sea. It is 124 metres deep and plays host to a world of weird and wonderful marine life, thanks to the unique environment the sinkhole has created. Diving, boat and snorkelling trips to the reef are available from both Ambergris Caye and Belize City, as well as other major towns and resorts along the coast, making it easy to experience the reef system for yourself, no matter your prefered activity or fitness level. 
OUR BEST TRIPS TO BELIZE BARRIER REEF
Tourist attractions belize
Copyright 2013-2023 Exoticca. All Rights Reserved.
80 Southwest 8th Street Brickell Bayview, Miami, FL 33130, United States