Call us toll-free now
Book with an expert for free:
1 778 807 9750
Too much? We'll call you. Drop your number in the box:
24 hours a day, 7 days a week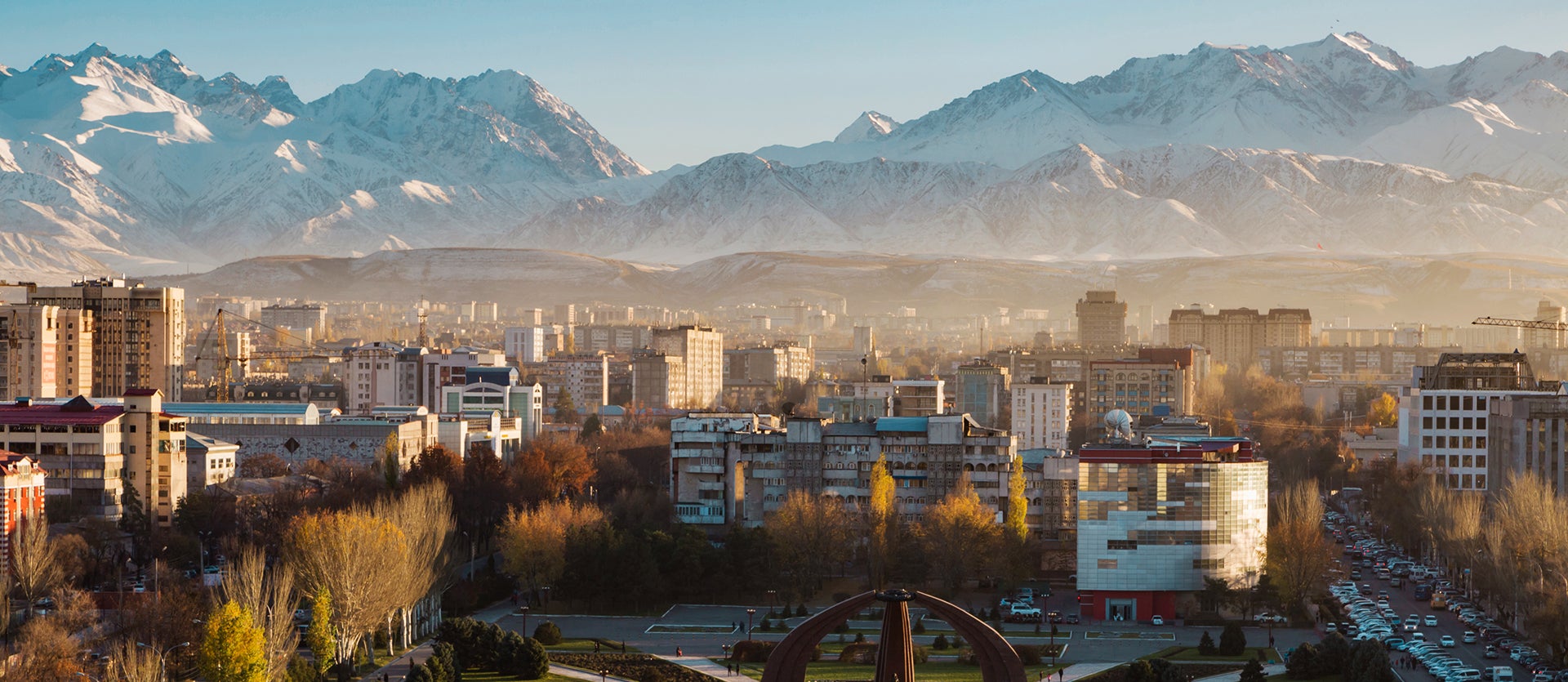 What to see in Kyrgyzstan
Bishkek
Tourist attractions Bishkek
The capital of Kyrgyzstan, Bishkek is surrounded by the dramatic peaks of the Tien Shan mountain range and sits in the heart of the Chui Valley. A fascinating example of a Russian planned city, Bishkek's skyline is characterized by wide boulevards, impressive marble facades and Soviet era apartment blocks. A major city in a country better known for its stunning natural landscapes and nomadic shepherd, a trip to Bishkek is the chance to uncover a modern, youthful side of Kyrgyzstan. 
If you travel to Bishkek you might notice that the city is relatively modern and lacking in historical sights. Despite this, it is a great jumping-off point for discovering the cultural delights and captivating landscapes of the more remote parts of Central Asia. Relatively unknown until recent years, Bishkek is now famed for its surprisingly vibrant nightlife and diverse mix of cultures. A stroll through the city's bazaars presents visitors with traditional products from across both Central and Eastern Asia, whilst an ever-present Russian influence has also shaped this capital city.
A great destination for a first-time introduction to Central Asia, you can travel to Bishkek at any time of year, although expect cold temperatures in the winter. 
Things to see in Bishkek
At the heart of the city is Ala-Too Square, one of the best places to visit in Bishkek and a great place to begin a tour of the city. This spacious square once housed a statue of Lenin, but today it is a meeting place for Bishkek locals and the setting for an array of open-air events and festivals. 
Nearby, you'll find the State History Museum, the go-to place for gaining an insight into the heritage of Kyrgyzstan. The museum contains valuable artefacts for Kyrgyz history, as well as interesting items from the Soviet era. 
One of the most interesting things to see in Bishkek is the impressive Russian Orthodox church. The largest church of its kind in Asia, its white facade is adorned by bright blue domes. Bishkek's Orthodox Church is a fascinating sight, considering its location at the heart of the capital of a predominantly Islamic Kyrgyzstan. The church was completed in 2015 and inside you'll find spectacular decorations and religious art. 
Finally, a trip to Bishkek would be incomplete without getting lost in the Osh Bazaar, situated in the west of the city. As the most famous bazaar in the city, a shopping trip here is one of the best things to do in Bishkek. Explore Osh Bazaar to admire a rich array of local products and a diverse selection of traditional clothing or simply sit and people watch to appreciate the multi-cultural atmosphere of the capital. 
We don't have any trips to Bishkek at the moment.
Subscribe to our newsletter to not miss any trips
In compliance with the Data Protection Regulation, we inform you about your rights in our privacy policy and Cookies policy
Tourist attractions kyrgyzstan
Copyright 2013-2023 Exoticca. All Rights Reserved.
Exoticca Travel Canada Inc 229 Yonge St Suite 400 Toronto, Ontario M5B 1N9 Canada