Call us toll-free now
Book with an expert for free:
1 778 807 9750
Too much? We'll call you. Drop your number in the box:
24 hours a day, 7 days a week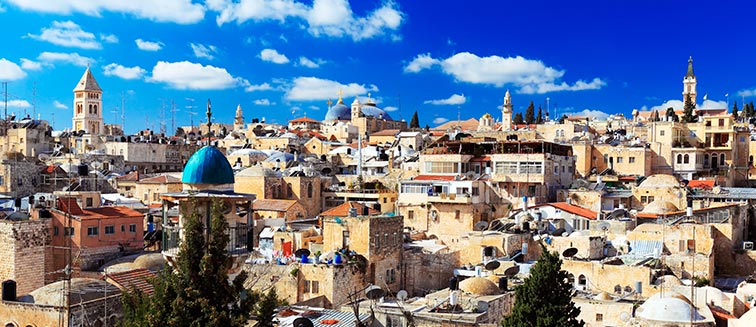 What to see in Israel
Jerusalem
Tourist attractions Jerusalem
On a vacation package to Jerusalem, you will discover that history and religion are alive, that it is a spiritual place even for non-believers. Located on a plateau between the Mediterranean and the Dead Sea, this eternal city is one of the oldest in the world and considered holy to three major Abrahamic religions; Judaism, Islam & Christianity. Many locations and historical sites in Jerusalem have great meaning to these three faiths and the city has been at the center of some of the worlds most pivotal historic moments since its first recorded existence, making it the perfect place to step back in time and explore the root of some of humanity's longest-held beliefs.
Like Jerusalem's history, it's people are diverse with clearly defined neighborhoods allowing visitors to pass from one culture to the other, enjoying the abundant delights of each. The Muslim Quarter is said to be the busiest, full of colorful souks and friendly traders. The old city is home to many gastronomic gems and you'll find plenty of quirky cafes and eateries to suit all tastes. In Jerusalem, you will encounter an amazing mix of nationalities, with dozens of languages being spoken within the brownstone city walls.
Jerusalem's most unmissable attractions can be found in the oldest part of the city. The Western Wall is perhaps the most iconic site, a place sacred to the Jewish religion as it was originally part of the 2nd Jewish temple. Here you can watch Jewish believers praying at the wall as it is the nearest to the Temple Mount that they are permitted to worship. In Islam, the Western Wall is also considered holy as it is believed to be the place that the Prophet Muhammed tied his steed before he ascended to heaven. Visitors are sure to feel humbled by the sheer significance of such a site and the meaning it holds. The other most notable site is the Church of the Holy Sepulchre, the holiest place in in the Christian world as it is believed to be the site of Jesus' crucifixion, burial, and resurrection. Visitors can admire the beautifully decorated chapels of the interior and descend to the sacred tomb where Jesus was buried and rose again.
We don't have any trips to Jerusalem at the moment.
Subscribe to our newsletter to not miss any trips
In compliance with the Data Protection Regulation, we inform you about your rights in our privacy policy and Cookies policy
Copyright 2013-2023 Exoticca. All Rights Reserved.
Exoticca Travel Canada Inc 229 Yonge St Suite 400 Toronto, Ontario M5B 1N9 Canada