Call us toll-free now
Book with an expert for free:
1 778 807 9750
Too much? We'll call you. Drop your number in the box:
24 hours a day, 7 days a week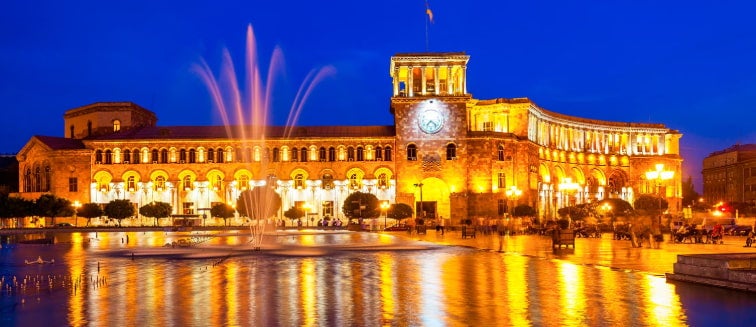 What to see in Armenia
Yerevan
Tourist attractions Yerevan
Once a near-constant war stage for rivalries between the Ottoman, Persian and Russian Empires, Yerevan is the capital of Armenia, situated along the Hrazdan River and sat at the base of snow-capped Mount Ararat. It became the capital in 1918 and expanded a great deal during the Soviet period, with the city being designed and built around a complex architectural plan. Before this time, it was a provincial town with a small population.
Today, Yerevan is home to over 1 million inhabitants and the cityscape is an exciting mix of modern skyscrapers, such as the Yerevan TV Tower, traditional 19th-century buildings and a few remaining ancient religious sites, many of which have previously been destroyed or remodelled completely since the expansion of the city. The Republic Square, with its magical musical fountain and flanked by stately buildings, is the hub of the city and a place where locals congregate in the summer evenings and during public celebrations.
The city centre, known locally as Kentron and the most popular area for tourists, is bursting with cafes, restaurants and taverns, the latter of which are always busy in the winter when the temperatures outside are bitter. Wide, Soviet-era avenues, invite visitors to explore the Opera District, home to the majestic Opera House, and Swan Lake Park, often host to open-air exhibitions.
The historic side to Yerevan is revealed at the imposing Erebuni Fortress, the oldest site in the city, dating back at least 2,800 years. Another most notable of Yerevan's sights is the Matenadaran, a library and institute home to one of the world's richest collections of ancient and medieval manuscripts, covering a multitude of subjects from religion to art, both in the Armenian and other languages. The Armenian Genocide Memorial complex is a poignant place to visit and the Blue Mosque, the only operating mosque within Armenia, amazes visitors with its intricate facade. It ceased operation during the Soviet-era but has since been renovated.
We don't have any trips to Yerevan at the moment.
Subscribe to our newsletter to not miss any trips
In compliance with the Data Protection Regulation, we inform you about your rights in our privacy policy and Cookies policy
Tourist attractions armenia
Copyright 2013-2023 Exoticca. All Rights Reserved.
Exoticca Travel Canada Inc 229 Yonge St Suite 400 Toronto, Ontario M5B 1N9 Canada