Call us toll-free now
Book with an expert for free:
1 778 807 9750
Too much? We'll call you. Drop your number in the box:
24 hours a day, 7 days a week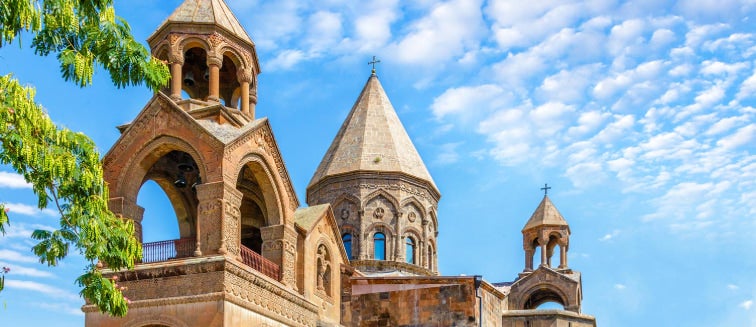 What to see in Armenia
Vagharshapat
Tourist attractions Vagharshapat
Armenia's fourth largest city, Vagharshapat was once the capital of Armenia after it's founding in the 2nd century and acted as the spiritual capital after the adoption of Christianity as the state religion in the 4th century. Today, it is located just outside of Yerevan and attracts visitors and pilgrims alike who come to explore its early Christian churches, some of the oldest in the country. Historically, Vagharshapat was often the stage of conflicts between warring empires in the central Asian region, but nowadays it stands out as a magical highlight on any trip to Armenia as it is the perfect gateway into the country's long history.
Etchmiadzin Monastery complex and Cathedral is at the heart of Vagharshapat. It is a UNESCO World Heritage Site, recognised for its intricate beauty and as being the mother church of the Armenian Apostolic Church. Saint Gregory the Illuminator, the man responsible for bringing Christianity to Armenia is said to have been instructed by God to construct the cathedral in the exact spot it still stands today. Since it was founded in the year 301, it has been rebuilt and added to, making a visit to the site an intriguing journey through time. The altar was built over an ancient pagan fire worshipping pit and the interior of the building boasts curious frescoes, lamps and a throne.
Vagharshapat is home to four other UNESCO sites: St. Hripsime Cathedral, St Gayane Church, Shoghakat Church & the 7th-century Zvartnots Cathedral, now in ruins but still attracting worldwide attention for its imposing Ionic stone columns, topped with ornate carvings. The city is easily navigatable on foot, and there are numerous museums and galleries to explore, making Vagharshapat a true cultural centre of Armenia.
We don't have any trips to Vagharshapat at the moment.
Subscribe to our newsletter to not miss any trips
In compliance with the Data Protection Regulation, we inform you about your rights in our privacy policy and Cookies policy
Tourist attractions armenia
Copyright 2013-2023 Exoticca. All Rights Reserved.
Exoticca Travel Canada Inc 229 Yonge St Suite 400 Toronto, Ontario M5B 1N9 Canada