Call us toll-free now
Book with an expert for free:
1 778 807 9750
Too much? We'll call you. Drop your number in the box:
24 hours a day, 7 days a week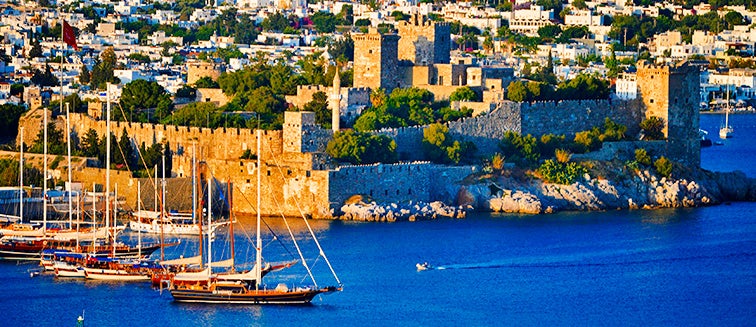 What to see in Turkey
Bodrum
Tourist attractions Bodrum
Bodrum, situated on Turkey's southern Aegean Coast, is one of the country's best-loved beach destinations, adored for its idyllic bays and captivating cultural heritage. Luckily, the popularity of Bodrum has not taken away from its innate charms and it's considered a sophisticated city and the playground of Turkey's rich and glamorous, with an appeal that stretches to travellers of all kinds.
Jutting out into the Aegean, the Bodrum peninsular is home to an intoxicating fusion of Islamic culture and beach-side style, where traditional mosques and bustling bazaars rub shoulders with upmarket beach clubs and ancient Greek ruins. The glistening azure waters of the Aegean and beautiful stretches of sandy coastline keep travellers coming back to enjoy a holiday in Bodrum year after year. 
Bodrum's fascinating history is a large part of its appeal. Known as Halicarnassus in classical times, it was famously home to the Mausoleum Of Halicarnassus, one of the Seven Ancient Wonders of the World, whose foundations still stand in Bodrum to this day. To the delight of all who travel to Bodrum, the city has many well-preserved historical sites including an ancient amphitheatre and the Crusader-era Bodrum Castle. 
With a year-round summer climate, a fantastic mix of cultural and leisure attractions, a pretty white-washed low-rise old town and a sophisticated food and drinks scene, a trip to Bodrum is a great choice, whether you're looking for a relaxing getaway or a sightseeing adventure.
What to see in Bodrum
If you've had your fill of beach lounging and taking in the pretty views from the marina-side, there's plenty of things to see in Bodrum, especially when it comes to historical sites. Bodrum Castle, also known as the Castle of St. Peter, is the most recognisable landmark in the city. Situated on a rocky peninsula between Bodrum's twin bays, Bodrum Castle dates back to the days of the Crusaders, the year 1402 to be exact when it was built by the medieval Knights of St. John. Its towers each correspond to the different nations affiliated with the Knights of St. John, and there is a French, a Spanish, a German, an Italian and an English tower. During Ottoman times, the castle's chapel was converted into a mosque with a minaret and if you visit Bodrum Castle today you'll see the multi-cultural elements that have shaped the fortification over the centuries. Housed within the castle is the Bodrum Museum of Underwater Archaeology, which showcases the lost treasures and artefacts from shipwrecks found in the Aegean. One of the largest museums of its kind in the world, there are a number of priceless items that date all the way back to the Bronze Age within its unique collections, as well as the world's largest collection of Islamic glass.
For spectacular views and a taste of ancient Halicarnassus, head to Bodrum Amphitheatre, one of the best-preserved structures from the ancient Greek era still standing in the city today. Built during the reign of King Mausolus in the 4th-century BC, this semi-circular amphitheatre could have accommodated up to 13,000 spectators at any one time. Since it was excavated in 1973, the Bodrum Amphitheatre has served as an open-air museum boasting breathtaking views across Bodrum harbour and along the peninsula to Bodrum Castle. 
Finally, a tour of Bodrum would be incomplete without visiting the ruins of its most legendary monument: the Mausoleum at Halicarnassus, also known as the Tomb of Mausolus. All that remains of this wonder of the ancient world in Bodrum is its foundations, alongside a small museum. The word 'mausoleum' can be traced back to this once magnificent tomb, built to honour the great leader Mausolus, ruler of Caria.
Copyright 2013-2023 Exoticca. All Rights Reserved.
Exoticca Travel Canada Inc 229 Yonge St Suite 400 Toronto, Ontario M5B 1N9 Canada