Call us toll-free now
Book with an expert for free:
1 778 807 9750
Too much? We'll call you. Drop your number in the box:
24 hours a day, 7 days a week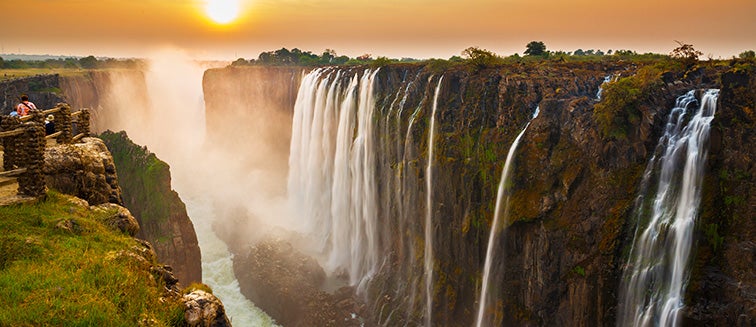 What to see in Zimbabwe
Victoria Falls
Tourist attractions Victoria Falls
Known locally as 'the smoke that thunders', the Victoria Falls is Zimbabwe's most iconic natural sight and one of the most famous attractions in all of Africa. Situated on the border between Zambia and Zimbabwe, on the mighty Zambezi River, a trip to Victoria Falls has long been a bucket-list favourite. With a length of more than one kilometre, Victoria Falls is considered one of the largest waterfalls in the world. 
Named in 1855 after Queen Victoria by the famous Scottish explorer David Livingstone, the falls are a designated UNESCO World Heritage Site formed of an inconceivably beautiful wall of falling water. Although panoramic views can be enjoyed from both sides of the border, the Zimbabwean side is the most popular vantage point due to its excellent visitor facilities, accommodations and well-placed viewing platforms. 
Since its discovery, visitors from all over the world have travelled to Victoria Falls to soak up the spectacle and listen exhilarating crash of the thundering water. As well as watching the dazzling cascades, more adventurous travellers can opt to bathe in the so-called 'Devil's Pool', situated on the Zambian side of the border. This natural pool, only accessible at certain times of the year depending on the water levels, allows visitors to bathe in the waters at the top of Victoria Falls, mere inches from the crashing cascades.
There are plenty of things to do in Victoria Falls aside from admiring the falls themselves. A number of wildlife and nature reserves, such as the Mosi-oa-Tunya National Park and the Victoria Falls National Park are home to rich ecosystems of native wildlife, so you can easily combine a trip to the Victoria Falls with an exciting safari if you wish.
OUR BEST TRIPS TO VICTORIA FALLS
Tourist attractions zimbabwe
Copyright 2013-2023 Exoticca. All Rights Reserved.
Exoticca Travel Canada Inc 229 Yonge St Suite 400 Toronto, Ontario M5B 1N9 Canada