Call us toll-free now
Book with an expert for free:
1 778 807 9750
Too much? We'll call you. Drop your number in the box:
24 hours a day, 7 days a week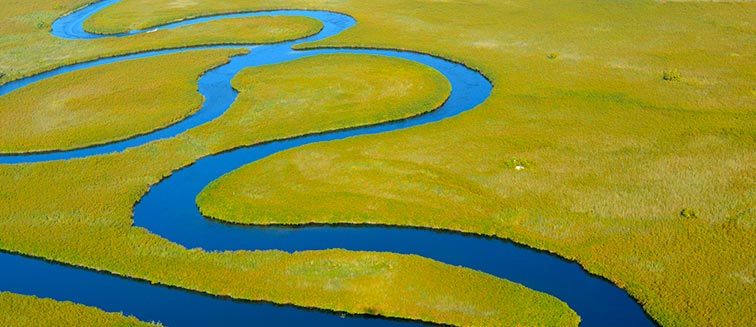 What to see in Botswana
Okavango Delta
Tourist attractions Okavango Delta
A UNESCO World Heritage Site, the Okavango Delta is a huge swampy marshland, the result of seasonal flooding, as water travels 1000 miles from Angola into this low-lying area. The delta serves as an oasis in an otherwise hot and arid region, attracting wildlife and making it the second most popular safari destination in the country, after the Chobe National Park. Flying into Maun, the small town that acts as the gateway for safaris and tours of the region, visitors have the opportunity to see the vast wetlands of the delta stretching out below them.
Game spotting is an easy task in such an abundant area. Elephants, wildebeest, antelope, impala, zebra, giraffes, hippos, rhinos, monkeys and predators such as lions, cheetahs and leopards are all attracted to the region in the dry seasons, as food and water become scarce in the surrounding arid lands. At least 160 mammals and 530 bird species populate the Okavango Delta during the dry winters when the delta begins to fill with life-giving water. The long-travelled waters eventually sink into the dusty sands of the Kalahari.
As long as 100,000 years ago, people have inhabited the delta region, all benefiting from the seasonal rush of nutrients to the land and the animals that are attracted to it. Nowadays, there are safari lodges for visitors who usually discover the delta in dug-out canoes that wind through the reed-covered waters.
Copyright 2013-2023 Exoticca. All Rights Reserved.
Exoticca Travel Canada Inc 229 Yonge St Suite 400 Toronto, Ontario M5B 1N9 Canada