Call us toll-free now
Book with an expert for free:
1 778 807 9750
Too much? We'll call you. Drop your number in the box:
24 hours a day, 7 days a week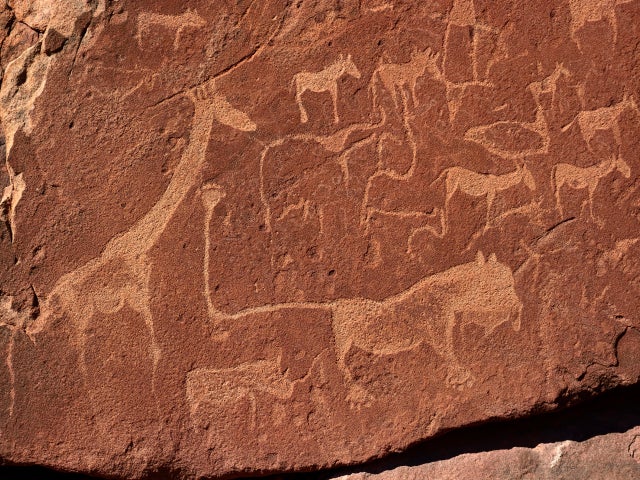 What to see in Namibia
Twyfelfontein
Tourist attractions Twyfelfontein
In the region of Kunene, in an isolated valley at 430 km northwest of Windhoek, is the site of Twyfelfontein, the only Cultural Heritage Humanity site in Namibia, where there are petroglyphs and archaeological remains between 10,000 and 2,000 years old. In those times this place was a garden, but it is thought that the engravings were made in the dry season when the scarcity of water and food encouraged the ritual activity of the ancestors of the "San", headed by the shamans.
In a semi-desert terrain is located this outdoor gallery of less than 1 square km where there are more than 2000 rock engravings in 212 slabs of rock, glyphs and inscriptions and paintings of red ocher that represent animals, geometric and human designs.
There are several guided routes and the representations of three of the rocks are the most outstanding: in the one considered as the main rock there are ancient engravings of a giraffe, a rhinoceros, an elephant, a warthog, several antelopes and the most important, the one called man-lion that has 5 fingers on the extremities and whose tail is a human arm; in the so-called rock of the dancing kudu, a female antelope with spiral horns that hints at female fertility, as well as rhinoceroses, giraffes and an ostrich; and in the third rock appears an archaic map with circles that represent the pools of water to which the animals come to drink and the phases of the moon.
Copyright 2013-2023 Exoticca. All Rights Reserved.
Exoticca Travel Canada Inc 229 Yonge St Suite 400 Toronto, Ontario M5B 1N9 Canada