Call us toll-free now
Book with an expert for free:
1 778 807 9750
Too much? We'll call you. Drop your number in the box:
24 hours a day, 7 days a week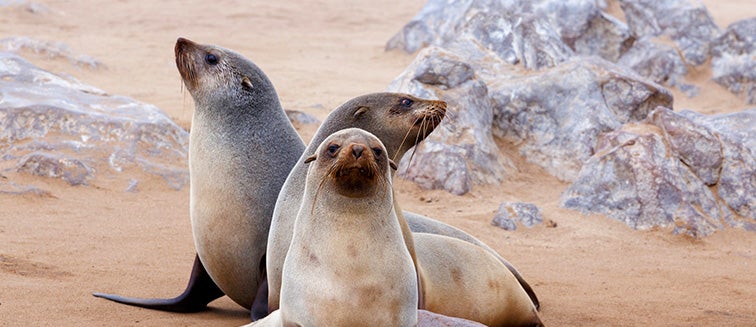 What to see in Namibia
Skeleton Coast & Cape Cross
Tourist attractions Skeleton Coast & Cape Cross
The stretch of coast that goes from Swakopmund to the border with Angola is known as the Skeleton Coast.
Here, the Namib desert and the Atlantic ocean coast embrace each other. A place where the strong waves, dense fogs and ruthless sandstorms combine to spell disaster for many shipwrecked ships and stranded whales over the years. The skeletal remains of mammals and the rusty structures of the ships make this place a dramatic coastal cemetery.
This treacherous and untamed place, full of stories of shipwrecks, is today a protected natural reserve and belongs to the Skeleton Coast National Park.
Cape Cross is located 120 km north of Swakopmund, also in the middle of the Namib Desert. In 1484 the Portuguese, with the intention of reaching the Indian route in search of spices, arrived at this point and placed a stone cross to mark the southernmost place in Africa that had been reached until then.
Here you can also find the Natural and Fauna Reserve that houses the largest world colony of sea lions, up to 250000 individuals. The Humboldt current coming from Antarctica comes loaded with plankton, attracting much fish that in turn feed these marine mammals. The strong smell due to the concentration of so many individuals is mixed with the intense soundtrack of the loud roars they emit. It is also a spectacle to contemplate the curious and funny behavior of these beloved animals while they relax on the coast in the sun.
OUR BEST TRIPS TO SKELETON COAST & CAPE CROSS
Copyright 2013-2023 Exoticca. All Rights Reserved.
Exoticca Travel Canada Inc 229 Yonge St Suite 400 Toronto, Ontario M5B 1N9 Canada