Call us toll-free now
Book with an expert for free:
1 778 807 9750
Too much? We'll call you. Drop your number in the box:
24 hours a day, 7 days a week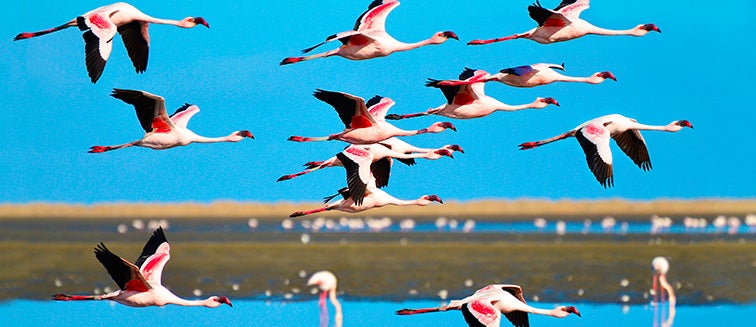 What to see in Namibia
Walvis Bay
Tourist attractions Walvis Bay
Walvis Bay, located about 43 km from Swakopmund and almost 400 km from Windhoek, is the main coastal city and the most significant port in the country where, because of its great depth, whalers and fishing vessels are docked.
"Pelican Point" is an arm of sand that forms a natural breakwater that protects the city from the strong waves, inhabited by hundreds of sea lions and on which stands the historic lighthouse of the bay.The sea enters the sand forming lagoons inhabited by some 200,000 migratory birds such as flamingos and pelicans, being a true paradise for ornithologists and forming the most important coastal wetland in Africa that encompasses the lagoon inhabited by two Flemish species, the Salinas with its beautiful pink hue thanks to the presence of Dunaliella salina algae and Bird Paradise, located east of the city, it is an artificial pools lined with reeds and an observation tower to watch the birds.
The most popular activities in the area are cruises to see dolphins, sea lions, pelicans and cormorants, kayak trips to explore the lagoon and 4x4 drives in the nearby dunes.Nestled in the bay is the city of Walvis Bay, which has about 65,000 inhabitants and is the second most important in Namibia after the capital. The oldest building in the city is the modest church of the Renana Mission that is situated next to the port.
It will not be strange to hear Spanish spoken in the streets of Walvis Bay since the city welcomes dozens of workers from several Spanish fishing companies that operate there. In fact, it has received the name of the "African Vigo".
Copyright 2013-2023 Exoticca. All Rights Reserved.
Exoticca Travel Canada Inc 229 Yonge St Suite 400 Toronto, Ontario M5B 1N9 Canada