Call us toll-free now
Book with an expert for free:
1 778 807 9750
Too much? We'll call you. Drop your number in the box:
24 hours a day, 7 days a week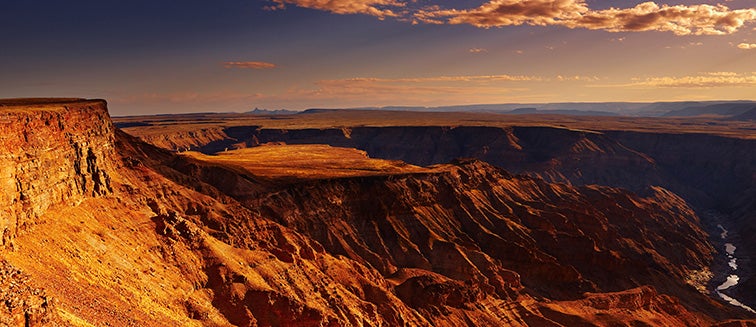 What to see in Namibia
Fish River Canyon
Tourist attractions Fish River Canyon
300 million years ago a fracture of the earth's crust caused the formation of this place in southern Namibia, near the border with South Africa. But it was not until 50 million years ago that the Fish River began to carve its way. Thus, seismic movements, water, wind and gravity have been responsible for forming the largest canyon in Africa and the second in the world after the Grand Canyon in Colorado. This distinction has been granted by its 160 km of length, 27 km of width and up to 550 m of depth.
Only during the rainy season, the Fish, the longest inland river, flows through this abrupt gorge to the south, crossing the rugged plateau until it joins with the Orange River.
The Canyon Park has two entrances, the Hobas camp to the northeast and Ais-Ais near the south end where hot springs and jacuzzis with treating waters are located. At 10 km from the first one is the "Senderista Viewport", where there is an area to picnic and enjoy the scenery. A few minutes south is the main viewpoint, with wonderful views of the imposing canyon. There are routes of a single day, but the most famous one is the 86 km hike which takes 5 days and runs from May to September.
In the area, you can find herds of Hartmann's mountain zebra, groups of Klipspringer antelope, baboons, dassies, ostriches, herons, bustards, black eagles and leopards.
Of course, this great work of nature is not free from legend. It is said by the natives, that this geological phenomenon was formed by a giant snake demonstrated by its immense and meandering route which hypnotizes the senses of those who are lucky enough to come face to face with the second most visited place in Namibia.
Copyright 2013-2023 Exoticca. All Rights Reserved.
Exoticca Travel Canada Inc 229 Yonge St Suite 400 Toronto, Ontario M5B 1N9 Canada