Call us toll-free now
Book with an expert for free:
1 778 807 9750
Too much? We'll call you. Drop your number in the box:
24 hours a day, 7 days a week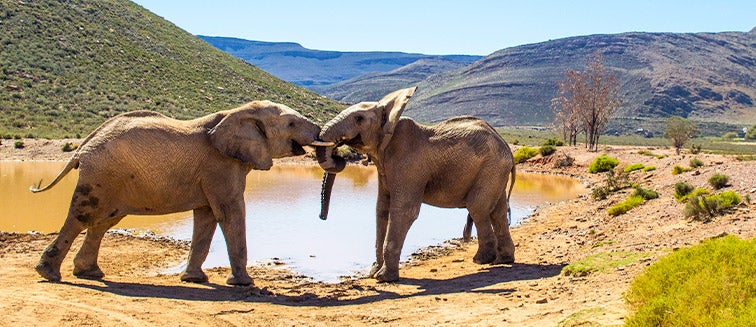 What to see in South Africa
Aquila Private Game Reserve
Tourist attractions Aquila Private Game Reserve
Nestled between the Outeniqua and Langeberg Mountains of the Western Cape, Aquila Private Game Reserve is the perfect place to experience the freedom of the wild! A vacation to Aquila Private Game Reserve allows you to discover the abundant wildlife of this region, as the reserve is home to the famous 'Big 5': elephants, lions, buffalo, leopards and rhinos. Occupying an area of 10,00 hectares, a trip to Aquila Private Game Reserve is ideal for families and for those wishing to experience an African safari in a safe and luxurious setting. 
Travelling from Cape Town to Aquila Game Reserve is simple, as the reserve is just a 2-hours drive from the city. On-site, you'll find high-end accommodation complete with an idyllic swimming pool, African-style restaurant, mezzanine bar and a lounge with amazing views of the seemingly endless reserve. 
Of course, all who visit Aquila Game Reserve will be interested in experiencing the wildlife safaris on offer here. Visitors can choose between game drives in traditional safari vehicles, on quad bikes or even on horseback, whilst the more adventurous might prefer a fly-in safari by helicopter. 
Interestingly, Aquila Game Reserve was established in 1999, when owner, Searl Derman, set about his mission to reintroduce the 'Big 5' to the Western Cape. After finding the perfect spot, Derman established the reserve close to the historic town of Touws River in the heart of the karoo. Today, a variety of wild game roam the reserve freely, and the reserve is run in a sustainable way, with the utmost care taken to protect the environment and the animals that inhabit this spectacular part of South Africa. 
If you stay at Aquila Game Reserve you'll be treated to an unforgettable safari experience and warm hospitality. Undoubtedly, the most popular experience at Aquila Game Reserve is to enjoy a variety of exciting game drives. Spend your days traversing the diverse ecosystems in search of the elusive Cape Mountain leopards and herds of African elephants. On the other hand, the facilities at Aquila Game Reserve mean you can spend your evenings in the utmost luxury. As night falls, guests can enjoy an outdoor firepit and admire the night's sky with the help of an on-site stargazing guide and telescopes! After a long day on safari at Aquila Game Reserve, the on-site Tranquila Spa is the perfect place to unwind, with a variety of treatments on offer alongside an indoor pool, sauna and steam room. 
Although you can visit Aquila Game Reserve on a day trip, most travellers opt to stay overnight. Accommodation options range from bush-style cottages with outdoor rock shows to stylish and modern lodgings, with spectacular views over the reserve. Furthermore, overnight stays include breakfast, lunch and dinner, welcome drinks and two game drives, so you won't have to worry about organising your meals or safaris!
Aquila Private Game Reserve offers a variety of packages and group experiences to suit all travellers. In fact, the reserve has won many awards over the years for its excellent service and sustainability projects. 
OUR BEST TRIPS TO AQUILA PRIVATE GAME RESERVE
Copyright 2013-2023 Exoticca. All Rights Reserved.
Exoticca Travel Canada Inc 229 Yonge St Suite 400 Toronto, Ontario M5B 1N9 Canada