Call us toll-free now
Book with an expert for free:
1-888-488-0592
Prefer us to call you? Drop your number in the box:
24 hours a day, 7 days a week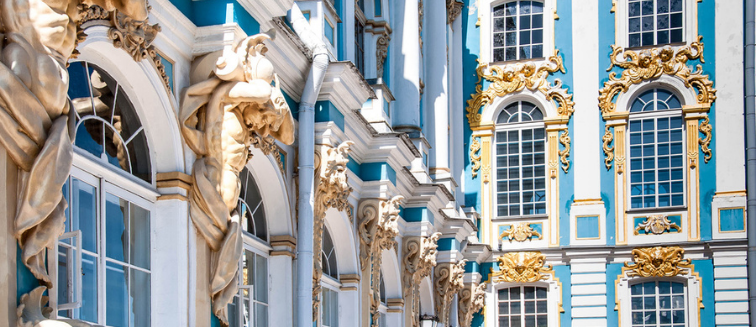 What to see in Russia
Hermitage Museum
Tourist attractions Hermitage Museum
Founded by Catherine the Great in 1764, the Hermitage Museum is amongst the most famous art galleries in the world, and also one of the largest. Empress Catherine the Great founded this legendary gallery after she acquired a huge collection of paints from the German merchant, Johan Ernst Gotzkowsky. It was first opened to the public in 1852, following the expansion of the collection by Alexander I and Nicholas I. 
A must-visit for lovers of art, the Hermitage stands elegantly on the banks of the glistening Neva River in central St. Petersburg and encompasses a total of six buildings, five of which are open to the public: the Small Hermitage, Old Hermitage, New Hermitage, Hermitage Theatre and the glorious Winter Palace, once the residence of Russia Emperors. Furthermore, the collection is open to visitors every day of the week except Mondays and on the third Thursday of each month, entrance is free. Curiously, the Hermitage is also famed for its large community of Hermitage cats, who inhabit the grounds surrounding the museum. 
If you visit the Hermitage Museum, you can discover a dizzying array of art, antiquities, jewellery and sculpture. This giant collection encompasses Egyptian and Classical antiquities, prehistoric art, Renaissance masterpieces, works from the Dutch Golden Age, Fine Art from across the world and a number of excellent Russian Art exhibitions.
Some of the most unmissable highlights to see on a tour of the Hermitage include works by the famous impressionist Monet, The Three Graces statue by Canova, Raphael's Madonna with Child, the Madonna Litta and the Benois Madonna by Leonardo da Vinci, the glorious red-velvet State Gala Staircase and the fascinating Knight's Hall, which showcases the history of arms and armour. 
Displaying more than 3.5 million items across a total of 2,000 rooms, visiting the Hermitage Museum is sure to be an unforgettable highlight of any St. Petersburg tour. 
We don't have any trips to Hermitage Museum at the moment.
Subscribe to our newsletter to not miss any trips
In compliance with the Data Protection Regulation, we inform you about your rights in our privacy policy and Cookies policy
Tourist attractions russia
Copyright 2013-2023 Exoticca. All Rights Reserved.
80 Southwest 8th Street Brickell Bayview, Miami, FL 33130, United States