Call us toll-free now
Book with an expert for free:
1-888-488-0592
Prefer us to call you? Drop your number in the box:
Mon. to Fri.: available 24-hours Sat. and Sun.: 3:00 a.m. - Midnight (EST) Or call your preferred Travel Advisor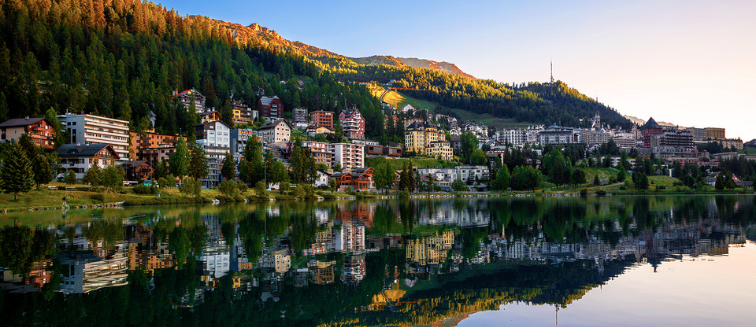 What to see in Switzerland
St. Moritz
Tourist attractions St. Moritz
The birthplace of Alpine tourism and the stage for two Winter Olympics, St. Moritz is Switzerland's best-known resort town. A trip to St. Moritz is the epitome of luxury travel. Perched 1856 meters above sea level in Upper Engadine, St. Moritz has long been the winter retreat of choice for royalty, celebrities and wealthy fashionistas since its establishment as a leisure destination in 1864. A local hotelier famously invited British guests to visit St. Moritz in the winter, and if they weren't impressed with the town he agreed to happily reimburse them for their stay. Of course, the guests instantly fell for the Alpine charms and winter sports, marking the beginning of St. Moritz's rise to fame.Blessed with sunshine for more than 300 days a year, St. Moritz offers excellent skiing, luxury accommodation and high-end shopping and dining. Nestled on the southern slopes of the Albula Alps and overlooking crystalline Lake St. Moritz, this winter sports destination is home to 350 kilometers of pristine pistes and state of the art ski infrastructure. Corviglia and Piz Nair are the steepest slopes, the favourites of St. Moritz's most talented skiers. Cross country skiing is also a popular thing to do in St. Mortiz and a great way to discover the wintery landscapes of the Engadine region. Even in the summer season, St. Moritz is bustling with visitors who can enjoy Alpine golfing, white turf horseracing and sailing on Lake St. Moritz. Indeed, you can travel to St. Moritz at any time of the year. Furthermore, the resort town is well-connected to Zurich and is also a terminal for the famous Glacier Express railway.St. Moritz offers the full vacation experience, with plenty of things to do within the town itself, from star-studded opera performances to ice skating rinks and a whole host of art galleries and museums. Despite the resorts luxury reputation, St. Moritz is by no means an exclusive destination and there are accommodation options to suit most budgets.
Things to see in St. Moritz
A stroll through the stylish streets of St. Moritz reveals an array of things to see and do. Visiting Segantini Museum is one of the most popular things to do in St. Moritz, housed within a beautiful stone building, crowned by a domed cupola. Inside you can admire the brilliant artwork of Giovanni Segantini, which elegantly portray the landscapes of the Alps and Engadine region.A stone's throw away is the Leaning Tower of St. Moritz, a major landmark. Just like the Leaning Tower of Pisa, this historic tower leans to one side by more than 5 degrees. Dating back to the 12th-century, it was once part of a larger church complex and is an interesting insight into the St. Moritz of old.Anyone with an interest in Switzerland will be familiar with the stories of Heidi, one of the world's most popular children's book series. The original mountain hut used in the filming of the first Heidi movie is situated just above the town and is one of the most popular things to see in St. Moritz.Known for its influence on winter sports and as the site of two Winter Olympic Games, a vacation to St. Moritz is incomplete without visiting the legendary Cresta Run, the famous ice skeleton toboggan track, built in 1884 and considered the birthplace of the modern skeleton race. Those daring enough to face this deft-defying track can reach speeds of up to 138 kilometers per hour! A whole community of toboggan racers grew from the opening of the Cresta Run and today there is also a Cresta Club House on site.
OUR BEST TRIPS TO ST. MORITZ
Tourist attractions switzerland
Copyright 2013-2023 Exoticca. All Rights Reserved.
80 Southwest 8th Street Brickell Bayview, Miami, FL 33130, United States