Call us toll-free now
Book with an expert for free:
1-888-488-0592
Prefer us to call you? Drop your number in the box:
Mon. to Fri.: available 24-hours Sat. and Sun.: 3:00 a.m. - Midnight (EST) Or call your preferred Travel Advisor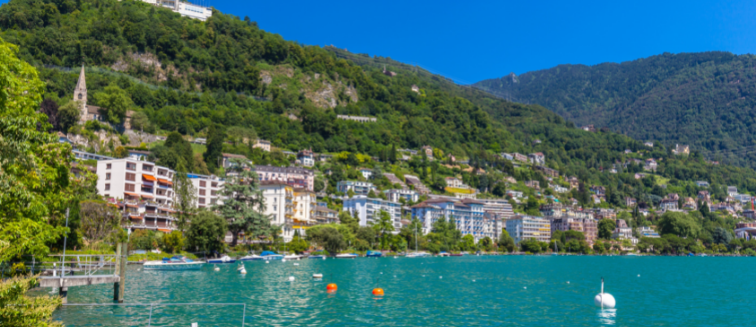 What to see in Switzerland
Montreux
Tourist attractions Montreux
Nestled on the glistening shores of Lake Geneva, idyllic Montreux is a resort town known for its mild microclimate and Belle Epoque architecture. Frequented by the likes of Lord Byron, Mary Shelley and Charlie Chapin in its heyday, a trip to Montreux is a chance to enjoy a tranquil getaway in the birthplace of Swiss tourism. 
This French-speaking town is surrounded by the breathtaking peaks of the Swiss Alps, Montreux has an artistic flair, showcased by its annual Jazz Festival, where legendary musicians such as Miles Davis and Ella Fitzgerald have graced the stage over the decades. 
Stretching from Lutry to Villanueva, along the shores of Lake Geneva, the entire Montreux Riviera region is like Switzerland in miniature, combining the delights of sophisticated culture, natural landscapes and charming architecture to create a lakeside paradise and the perfect destination for a tranquil getaway.
Palaces and luxury hotels dominate the lakeside promenade, whilst up in the hills, hiking trails meander through forests and wildflower meadows, filled with rare and unique Alpine blooms. Furthermore, the extensive vineyards of Lavaux invite visitors to sample the regions high-quality wines, which perfectly complement the fine dining offered in Montreux town. 
Winter sports lovers are well catered for with ski lifts and mountain railways connecting the town with the ski slopes of Rochers de Naye, Pleiades and Caux. Back in town, you'll find all the luxury chocolatiers and upmarket boutiques you'd expect. Travel to Montreux to indulge all of your senses!
Things to see in Montreux
Blessed with a beautiful microclimate, a vacation to Montreux is sure to include a good deal of outdoor activities. One of the best things to do in Montreux is to visit the famous Lavaux Vineyards, a UNESCO World Heritage Site stretching for 30 kilometers between Montreux and Lausanne along the shoreline of Lake Geneva. These terraced vineyards have their roots back in the Roman era although the current layout dates back to the 11th-century. This is the perfect place for a scenic stroll although the highlight is surely stopping at the local wine cellars to taste the fine Lavaux wines, known for their dry and aromatic flavour.
Located within the vineyards is Switzerland's most visited historical building: the 13th-century Chateau de Chillon. Originally the domain of the House of Savoy, this lakeside castle is home to amazing medieval frescoes and spooky Gothic-era dungeons. It's truly one of the best things to see in Montreux.
If your appetite for medieval architecture is still not satisfied, head to Montreux Old Town, clinging to the hillsides above Lake Geneva. Filled with pastel-coloured houses and bistro terraces, here you can climb narrow cobblestone streets and explore the Montreux Museum or St. Vincent Temple, home to spectacular views thanks to its high vantage point. After exploring the hillside streets, stop at a local cafe for fine Swiss cuisine and perhaps a glass of the local Lavaux wine. Another highlight of the Old Town is the amazing Gorges du Chauderon, where you can follow the marked trails through the ancient gorge to discover where the La Baye de Montreux River flows into Lake Geneva. 
Finally, if you travel to Montreux as a music fan, you cannot miss out on a visit to the Queen: Studio Experience exhibition. The British rock band had a strong connection with Montreux, recording a number of their hit albums at the Montreux Mountain Studio, where the exhibition is held today. Home to a plethora of Queen memorabilia, visitors can even see the very studio where Freddie Mercury created his final songs. 
OUR BEST TRIPS TO MONTREUX
Tourist attractions switzerland
Copyright 2013-2023 Exoticca. All Rights Reserved.
80 Southwest 8th Street Brickell Bayview, Miami, FL 33130, United States