Call us toll-free now
Book with an expert for free:
1-888-488-0592
Prefer us to call you? Drop your number in the box:
24 hours a day, 7 days a week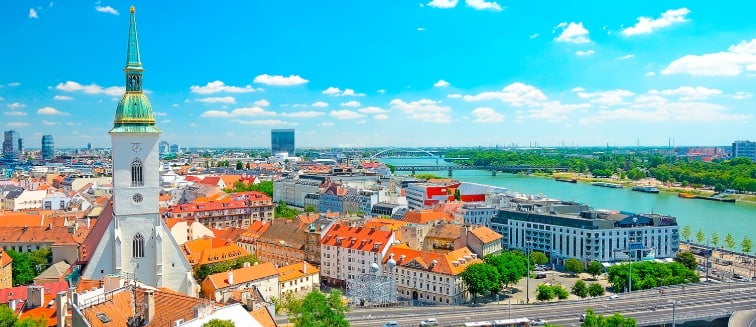 What to see in Slovakia
Bratislava
Tourist attractions Bratislava
The capital of Slovakia, Bratislava is a small city with a lot to offer. Situated across both banks of the Danube River and bordering Austria and Hungary, Bratislava has a long history and played a significant role in the mighty Kingdom of Hungary, when it was the location of royal coronations. More than one million tourists a year choose a city-break to Bratislava, with many looking to enjoy its upbeat nightlife and old-world beer halls.
The city's skyline seems to have come straight from the books of a fairytale as it is dotted with church spires and medieval buildings, although the country's Communist past can be seen in a number of Soviet-era blocks. With a population under 500,000, Bratislava is one of the smaller European cities, helping to retain its quiet charm against the backdrop of the Carpathian mountains and vineyards. Be sure to spend some time looking up at the beautiful facades in the Old Town, where the historic heart of the city can be fully enjoyed. 
Highlights of Bratislava
Of all the unmissable sights to see on a tour of Bratislava, the majestic Bratislava Castle is among the top attractions due to its privileged hilltop location which provides sweeping views across the city. Originally built in the 10th-century, the recently reconstructed castle houses the National Museum and plays host to a range of events including a vibrant Jazz festival. St. Martin's Cathedral, also located in the historic heart of the city, is a charming building of Gothic and Romanesque style and famously the site of former coronations of the royal family of the Kingdom of Hungary.
Here, you can walk in the footsteps of the former monarchs of Central Europe. Another religious building not to be missed on a trip to Bratislava is the Church of St. Elizabeth, recognisable for its sky-blue facade and art-nouveau design. Visitors to Bratislava with a keen interest in architecture should visit Primate's Palace, an elegant 18th-century mansion with a pink and white facade, today used as the city Mayor's office and as a music hall.
OUR BEST TRIPS TO BRATISLAVA
Tourist attractions slovakia
Copyright 2013-2023 Exoticca. All Rights Reserved.
80 Southwest 8th Street Brickell Bayview, Miami, FL 33130, United States