Call us toll-free now
Book with an expert for free:
1 778 807 9750
Too much? We'll call you. Drop your number in the box:
24 hours a day, 7 days a week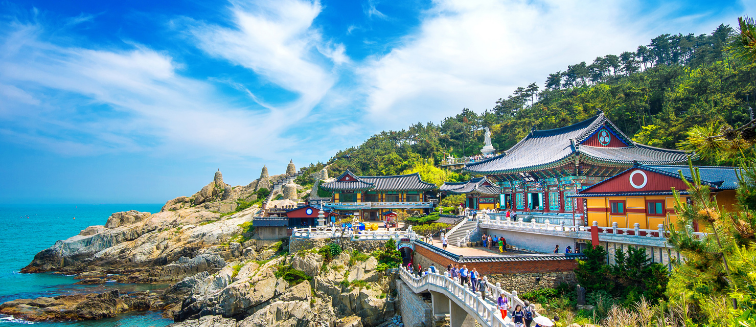 What to see in South Korea
Busan
Tourist attractions Busan
The second-largest city in South Korea, Busan is a major seaport on the country's south coast. Whilst many who travel to South Korea head directly to the capital, Busan offers a more laid-back atmosphere without compromising on incredible sights, cultural treasures and excellent Korean cuisine! Despite its size, Busan has a small-town feel and its beautiful coastal beaches are seriously inviting after a long day of sightseeing!
In fact, many travellers admit that Busan is actually their favourite South Korean city, so be sure to make time to explore this vibrant destination! Easily reached by rail or road from Seoul, a trip to Busan is the chance to explore a city where tradition, modernity and nature intertwine to create a truly loveable city. With an excellent subway system, getting around Busan is delightfully simple, and you'll soon be hopping between Joseon-era temples, sun-kissed beaches and shopping streets in no time!
Enjoying mild temperatures, you can visit Busan at any time of the year, although the lush mountains surrounding the city require a fair amount of rain during the summer months to maintain their verdant appearance. 
As one of the world's busiest seaports, Busan has a distinctively international feel but somehow always remembers its roots as an important chiefdom of the Silla dynasty. Furthermore, the city's historic temples, some of which date back more than 1,000 years, are on the must-see lists of all who travel to Busan. With limitless things to see and do, excellent infrastructure, great transport links and exceptional sea views, a tour of Busan is sure to be a highlight of any South Korea itinerary!
Things to see in Busan
Of course, the sheer size, location and historic legacy of Busan mean it would take more than just a few days to experience all this city has to offer. When it comes to the best things to see in Busan, many visitors prefer to start with the city's historic temples. One of the most spectacular is Beomeosa Temple. The head temple of the Jogye Order of Korean Buddhism, Beomeosa sits on a slope overlooking the city. Established in the year 678, this ancient temple is home to a variety of national treasures, including two stone pagodas. Furthermore, a visit to Beomeosa Temple is often combined with a trip to the nearby Cheongryeonam Hermitage, home to exceptional examples of ancient Buddhist architecture and sculpture. 
Whilst the treasures of Beomeosa Temple make it one of the most culturally important temples in Busan, by far the most popular temple in the city is Haedong Yonggungsa. Perched on a coastal path overlooking the Sea of Japan, the idyllic scenery ensures this is one of the best places to visit in Busan. Due to its popularity, it can get a little crowded at times so visit early in the morning for unspoilt views and a tranquil atmosphere.
Situated in the south of the city, Gamechon Cultural Village is perhaps the most photographed place in Busan! This rainbow-coloured village has earned worldwide recognition for its multi-coloured palette of buildings, perched upon the coastal hillside. Gamechon was once considered a run-down area of Busan, but in 2009, artists were brought to the neighbourhood to paint the houses in bright colours and create beautiful street murals. Nowadays, the neighbourhood is home to all kinds of quirky shops and trendy cafes and is a pleasure to explore on foot, although be prepared to climb multiple flights of stairs!
If you're visiting Busan and looking for a little reprieve from the hustle and bustle of the city centre, the coastal area of Taejongdae is the ideal place for a day trip. Home to secluded beaches, seaside walking trails and a lighthouse with a viewing platform, Taejongdae celebrates Busan's coastline in all its rugged, windswept beauty! You'll also find a variety of sea view eateries here, where you can sample fresh grilled clams, a local delicacy.
Finally, a tour of Busan would be incomplete without spending an evening at BIFF Square, at the very heart of the city. One of the best things to see in Busan, this foodie paradise is home to an array of street food stalls, which attract huge ques with their mouth-watering Korean snacks. Sweet pancakes, known as 'hotteok' are a must-eat and, after filling up on street food, you can browse a variety of shops or even catch a movie at Busan's famous Megabox Theatre. 
We don't have any trips to Busan at the moment.
Subscribe to our newsletter to not miss any trips
In compliance with the Data Protection Regulation, we inform you about your rights in our privacy policy and Cookies policy
Tourist attractions south-korea
Copyright 2013-2023 Exoticca. All Rights Reserved.
Exoticca Travel Canada Inc 229 Yonge St Suite 400 Toronto, Ontario M5B 1N9 Canada