Call us toll-free now
Book with an expert for free:
1 778 807 9750
Too much? We'll call you. Drop your number in the box:
24 hours a day, 7 days a week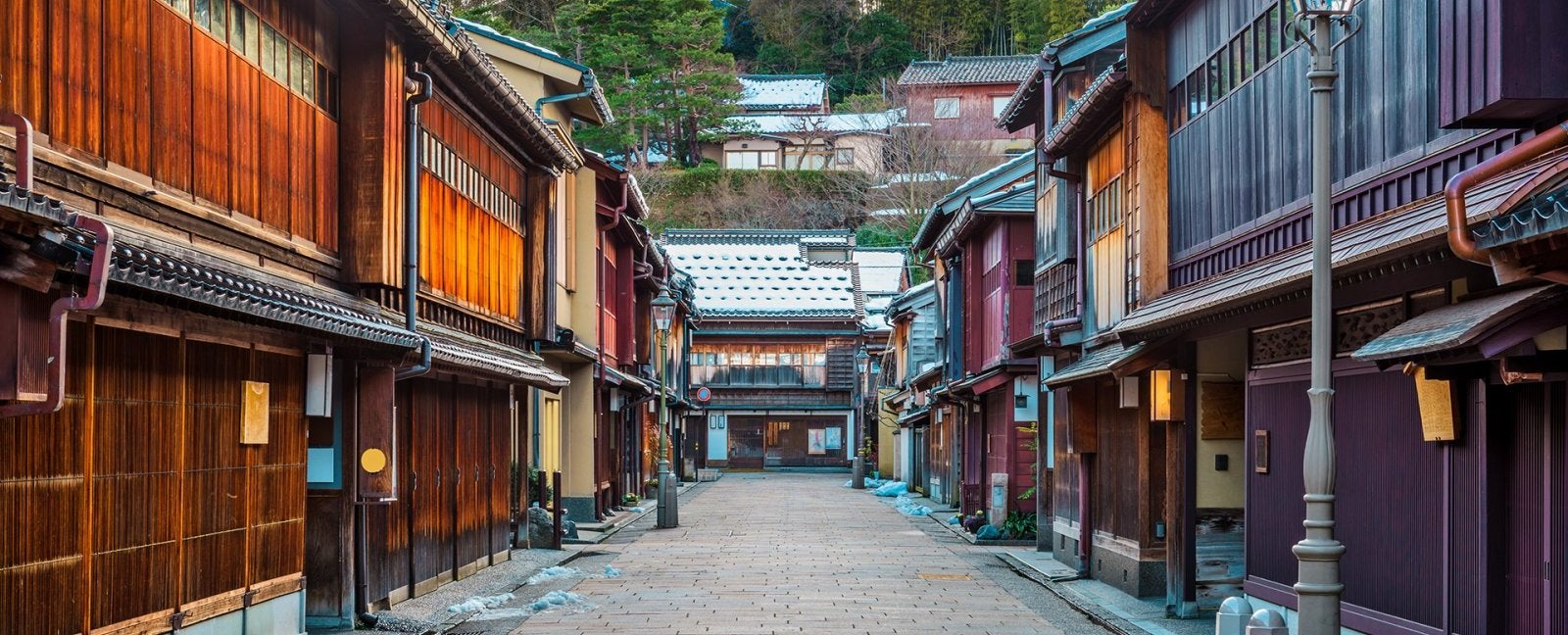 What to see in Japan
Kanazawa
Tourist attractions Kanazawa
An off-the-beaten-track destination, nestled between the Sea of Japan and the Japanese Alps, Kanazawa is one of the best-preserved Edo-era cities in Japan and a true hidden gem, sometimes overlooked by visitors on a tour of Japan in favour of better-known destinations. This is unfortunate as Kanazawa is the centre of traditional Japanese culture and, having escaped the destruction of World War II air raids, much of its traditional architecture and monuments remain standing in their original splendour.
Nagamachi Samurai District and the geisha district of Higashi Chaya-Gai are just a few examples of Kanazawa's historic neighbourhoods, the latter of which is one of the few places in Japan where you can still experience the elegant art of the geisha in all its original beauty and talent. The capital of Ishikawa Prefecture, Kanazawa's museums, cultural institutions, historic districts, temples and landscaped gardens collaborate to make the city an unmissable stop on a tour of Japan.
A UNESCO City of Crafts and Folk Art, preserving traditional Japanese arts is at the heart of Kanazawa and it's here that you can partake in gold-leaf tea ceremonies or watch artisans creating hand-dyed silks or hand-painted ceramics as their ancestors have for centuries before them. Whether you visit in the warm summer months or the snow-laden winter season, visiting Kanazawa is easier than ever, using Japan's Rail System to travel from Tokyo, Kyoto or Osaka. Kanazawa is known for its delicious cuisine, particularly its traditional confectionary and seafood, so it's one of the best places in the country to sample authentic Japanese sushi.
Things to see in Kanazawa
The mix of old and new makes exploring Kanazawa a fascinating and fun experience. There's countless things to see in Kanazawa, but a few stand out as unmissable. Kenrokuen Garden is surely at the top of the list when it comes to sights in Kanazawa. One of Japan's 'three most beautiful landscape gardens', Kenrokuen, constructed almost 200 years ago, is a shining example of the ancient art of Japanese landscape theory. Plum, cherry blossom and maple trees produce a vibrant palette of colours across all seasons and following a tranquil stroll throughout the gardens, visitors can stop at a number of charming teahouses to refresh themselves with traditional teas and daifuku or mochi. Be sure to see the huge Karasaki Pine, planted from a seed in the 13th-century, and Kasumiga-Ike Pond, the largest in the garden.
If you travel to Kanazawa hoping to experience the Japan of yesteryear, the Nagamachi Samurai District is a must-visit. Located close to the former Kanazawa Castle, this charming district used to house samurai and their families. Here, you can stroll through the narrow lanes, flanked by traditional dwellings, and gain an insight into the life of a samurai at Nomura Clan House, a restored samurai residence. Continue across the Asano River and you'll find yourself in Higashi Chaya Geisha District, established in 1820 as a teahouse and entertainment district to accommodate wealthy nobility and merchants. Walking its streets is like strolling through the set of the movie Memoir of a Geisha. A
s well as the traditional architecture, the district is home to a number of museums, souvenir shops and two public geisha teahouses, where you can watch the traditional arts and performances of elegant real-life geishas. Another fascinating relic of Kanazawa's past is the Myoruji Temple, a Buddhist temple built in the 17th-century. Its nickname of 'Nija Temple' is a product of the quirky defence systems in place within the temple, including trap doors, secrets tunnels and hidden rooms, as the temple was designed to act as a disguised military outpost for Kanazawa Castle.
If you're also interested in discovering the cutting-edge Japan of the future, a trip to Kanazawa would be incomplete without exploring the immense 21st Century Museum. This contemporary art museum, housed within a conceptual modern building, is home to a plethora of mind-bending interactive installations and a great number of artworks by both Japanese and international artists. After exploring the sights of Kanazawa itself, an excellent day trip idea is to visit Shirakawago Village, an idyllic mountain village and UNESCO World Heritage Site in the Shogawa River Valley, composed of traditional peak-roofed wooden farmhouses. You can even stay overnight in one of the pretty farmhouses and the village is particularly beautiful during the heavy winter snowfall. Another thing to do in Kanazawa is to spend the night at one of the city's traditional onsens, old-style guesthouses complete with sliding doors and cosy floor cushions. This is the ultimate Japanese experience to complete any holiday to Japan.
OUR BEST TRIPS TO KANAZAWA
Copyright 2013-2023 Exoticca. All Rights Reserved.
Exoticca Travel Canada Inc 229 Yonge St Suite 400 Toronto, Ontario M5B 1N9 Canada