Call us toll-free now
Book with an expert for free:
1 778 807 9750
Too much? We'll call you. Drop your number in the box:
24 hours a day, 7 days a week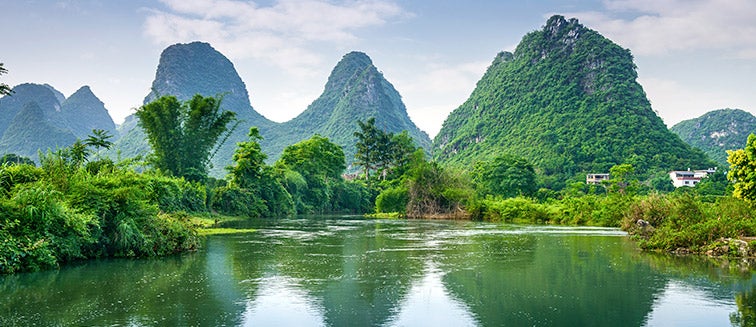 What to see in China
Guilin
Tourist attractions Guilin
Have you decided to travel to Guilin, to see its jagged mountain ranges and learn more about Chinese culture? These are some of the most interesting things to see and do in an area renowned for its mysterious caves, looming rockfaces, clean rivers, crystal-clear lakes, and green hills. Discover Guilin with Exoticca and don't miss out on the more urban attractions of towns such as Yangshuo and Longsheng, or the experience of cycling through the countryside or sailing down the Li River.
Travel to Guilin and take a cruise on the Li river
You can sail the Li river on a tourist boat or rent a bamboo raft. Rafting is also possible, although this depends on the weather. What will you find on your river trip? An overwhelming landscape and the possibility of getting up-close to small villages that are rarely visited. The river is 83 km long and is the area's main attraction. 
Getting to know rural Yangshuo by bicycle
The scene is so picturesque, it's like something out of a movie. Imagine yourself cycling across a vast paddy field to reach fruit orchards, up the gentle green hills of Guilin to a quiet farming village. Doesn't that sound utterly idyllic? Well, this is one of such possible activities if you decide to travel to Guilin
Yangshuo: a compulsory port of call if traveling to Guilin
Yangshuo is Guilin's best-known place. There are many things to see here, and outdoor activities include visiting the rice terraces, exploring the nearby villages, and strolling along the banks of the Li River. In the latter case, there's a walking route about which lasts about an hour.
The rice terraces cut across the green landscape with white lines that seem to be painted on, resulting in an utterly peculiar landscape. 
As for the inhabitants of the area, there are different ethnic groups, each with their own folklore, and you can learn about their songs and typical dances.
Reed Flute Cave
The Reed Flute Cave is an underground cavern where you will see stalactites and stalagmites of various shapes. The visit lasts just over an hour and a half. Wear a lightweight jacket to protect you from the cold inside and get ready for the show. 
Travel to Guilin, land of rivers and lakes
The landscape of this area would not be possible without the role played by its system of lakes and rivers, many of which are navigable. At night, the landscape is even more attractive, as the rivers and lakes are lit up with colored lights. You can sail or walk along the banks. In either case, the experience will be magical. 
Bamboo rafts
If you choose to navigate the Yulong river, you can only do so on bamboo rafts, the traditional mode of transport. Each raft has a bamboo chair built into the center of it. Our advice? Sit down and enjoy the scenery. 
A little bit of urban tourism in Guilin
Yangshuo's West Street is well known to those who decide to travel to Guilin. It's here that you'll find the greatest accumulation of tourism. The reason is that cafés and restaurants abound here. It is also in this street that you can buy the best souvenirs on your journey. If you fancy market-style shopping, don't miss West Street.
Light show
As you may have noticed, the Li River is the nerve center of life in Guilin and Yangshuo. So much so that there are a folklore and light show in which its waters are illuminated to the rhythm of the most enchanting popular songs. The show is called Impression Liu Sanjie or the impression of the third sister Liu. And, if you are interested in Chinese customs and ancient culture, we recommend that you go.
Chinese gastronomy and culture in Guilin
Rice noodles are the one traditional dish par excellence that you mustn't miss if you decide to travel to Guilin. They're eaten at all times there, whether at breakfast, lunch or dinner. You'll find them in every corner of the city and they are very affordable. 
If, in addition to visiting the area, you want to learn some of the many Chinese artistic disciplines, you can sign up for calligraphy, tai chi or cooking class. You won't become an expert with just one class, but the experience is well worthwhile. You can also make oil tea, learn to embroider in the traditional way or do your bit to help and, indeed, work in the fields. All these possibilities will bring you a little closer to the local culture and enrich your trip.
Copyright 2013-2023 Exoticca. All Rights Reserved.
Exoticca Travel Canada Inc 229 Yonge St Suite 400 Toronto, Ontario M5B 1N9 Canada