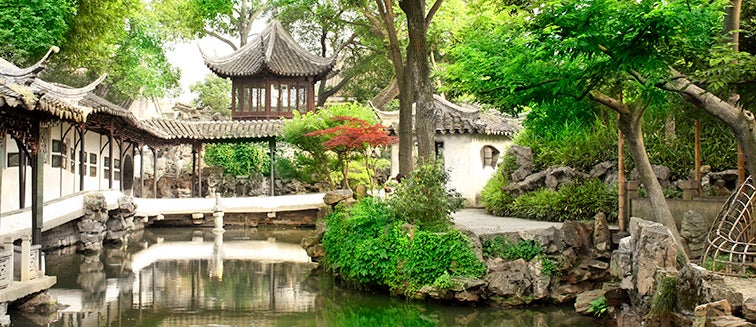 What to see in China
Suzhou
Tourist attractions Suzhou
Traveling to Suzhou on a half-day or full-day tour from Shanghai is standard practice. And there are multiple reasons for this. Not for nothing the city's known as the "Venice of China", thanks to its canals, its rounded bridges, and even its gondoliers. But there's so much more you can see here. Its traditional gardens have been recognized as World Heritage Sites by UNESCO, and it has several pagodas worth seeing as well as the remains of the wall that once surrounded it. Get to know Suzhou with Exoticca.
The Suzhou canals
Before even setting foot in Suzhou you should know why it's often compared to Venice. A city map shows just how the canals serve as the city's nervous system. You could say there's almost more water than paved roads. Those whose job it is to transport tourists in their canal boats wear striped t-shirts with the typical shades of blue and white and some even sing a tune similar to Pavarotti's iconic "O sole mio".
It's true that the traditional Chinese architecture, small white houses, red lanterns, and more modest rounded bridges are a world apart from Venice, but the comparison is more than justified.
Fortunately, Suzhou doesn't attract mass tourism, so if you do visit you can enjoy certain tranquility. 
Although the whole city is thronged with canals, the most beautiful ones are on the roads of Shan Tang and Pinjiang. Taking photos from any of the little bridges that cross them will enable you to capture the area's beauty. These two streets are the most visited streets in Suzhou, so you will find lots of souvenir shops, restaurants and places to savor delicious Chinese tea. If you prefer a quieter or less Westernised area, you're only a few streets away from it. 
Classical Gardens of Suzhou
You can't travel to Suzhou without visiting one of its gardens. In fact, one of the most popular walks is the one that leads from the Humble Administrator's Garden to the canals of Shantang Street. 
UNESCO has included eight of Suzhou's gardens on its list of World Heritage Sites. Some of them remain unchanged from when they were designed 500 years ago. They originally belonged to private owners who took pride in caring for and preserving them. Today you can visit their lakes, contemplate the various flower species and be amazed at the beauty of their pavilions, temples, and pagodas. 
North Temple Pagoda
The North Temple Pagoda has its own gardens and these alone make it worth visiting if you decide to travel to Suzhou. But it also has a Buddhist temple and is one of the strategically located points from which to get the best views of the city. By the way, if you were thinking that Suzhou might be a small place, you'd better rid yourself of the idea. No fewer than ten million people live here. 
The pagoda isn't in the city's tourist center, but you can get there by walking or public transport. It's well worth the effort.
Tiger Hill and its leaning pagoda
King He Lu's Tomb
Legend has it that three days after his son buried King He Lu on the hill, a white tiger appeared and sat atop his tomb. From that moment on, the hill was named Tiger Hill.
By the way, this is not a natural hill, but a promontory built to serve as the king's tomb. The thousand-odd workers who were employed there were executed upon the completion of the project. A grim start to a spot you mustn't miss when in Suzhou. 
Tiger Hill Pagoda
The pagoda at the top of the hill belongs to the temple of Yunyan. It's become a symbol of the city and for that reason, you simply must visit it if you decide to travel to Suzhou. We mentioned the similarity between Suzhou and Venice, but the Tiger Hill Pagoda bears a closer resemblance to Pisa, as we're talking about a building that leans. 
Sword Test Stone and Pond of Swords
King He Lu liked to collect curious swords and it is said that he used to try them out on the stones in his garden. Here you see some cracked stones and it is said that these cracks correspond to the sword strikes. The swords themselves have disappeared and are believed to be buried in the lake, which is called the Pond of Swords. 
Well of Lu Yu
Lu Yu was the author of the first book on tea. He wrote the last part of his treatise as an old man when he lived on Tiger Hill. Here he dug a well and declared that its water was the third-best in all of China, perfect for making tea. 
We don't have any trips to Suzhou at the moment.
Subscribe to our newsletter to not miss any trips
In compliance with the Data Protection Regulation, we inform you about your rights in our privacy policy and Cookies policy

Do you want expert advice?
We can help you choose the best destination for your trip.