Call us toll-free now
Book with an expert for free:
1 778 807 9750
Too much? We'll call you. Drop your number in the box:
24 hours a day, 7 days a week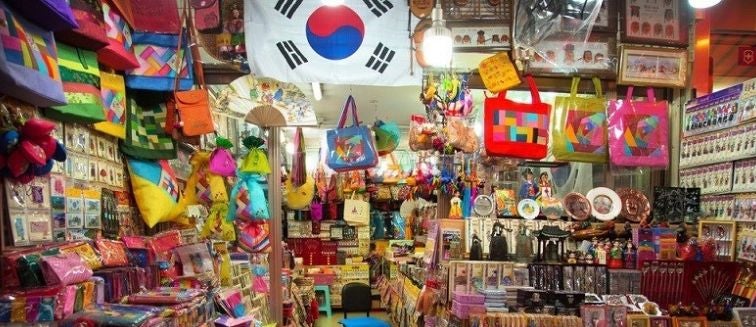 Shopping in South Korea
If you are looking for souvenirs from South Korea you should read this.
There are many things to buy in South Korea, there is an immense range of souvenirs distributed in the markets, streets and shopping centres. The good thing is that they have a good fixed price, so you won't need to spend time bartering.
If you travel to this Asian country, there are all kinds of traditional products that you won't be able to resist. From beauty products at the Myengdong market through to clothes and technology at the O'Park Mally Yongsan, and even medicinal herbs at the Gyeongdong market.
Now, if you visit Seoul, you should go to the Namdaemun Market, where you will find handicrafts, stationary, kitchen utensils, clothes as well as traditional South Korean souvenirs to take home with you as souvenirs or gifts. In the rest of the country, you will also find all the above, and more, you will be fascinated by the variety and originality of the things you can buy in South Korea.
Let's see below what you can buy in South Korea during your visit and what traditional products and souvenirs are most in demand by travellers.
Cosmetics
In case you didn't know this, cosmetics in this country are of high quality and are sold at a good price. In the streets of Myeong-dong in Soul, for example, there are many shops selling high-quality beauty products. What better gift to buy in South Korea than a beauty product set.
Hanbok
If you had to choose one of the traditional products of South Korea as the principal souvenir, this would have to be the Hanbok, the traditional Korean dress. Prices for this traditional item of clothing vary according to the quality of the material, the design and the type of embroidery. You will find them in the markets: Namdaemun Market or Gwangjang Market, as well as in the streets of Insadong.
Electronics
Of course, something that all travellers want to buy in South Korea is electronics.  As in all good Asian countries, this country has an endless range of electronic devices that will delight the most demanding of people.  Undoubtedly, you should check that the products have a guarantee and that you can change the menus to your own language...
Traditional masks
Among this country's crafts, the traditional masks known as Hahoetal, are one of the most popular souvenirs. The antique market of Janganpyeong in Seoul is the perfect place to find them, although you can find them throughout Korea. You will also find them in other markets and shopping streets throughout the country.
Mother of pearl jewellery boxes
Among the souvenirs from South Korea, jewellery boxes decorated with mother of pearl are one of the principal items. You can find them at a good price at the Namdaemun Market in Seoul, as well as other markets in the country.
Stationery
Hand-crafted paper is another item to buy in South Korea which will make a popular gift from this country. You can choose between notebooks to envelopes, stamps, pencils, sheets of paper, and beautiful bookmarks with traditional symbols.
Kitchen utensils and Korean food deserve another section. So you will have to take some of the following country's traditional products home with you.
Ginseng
Korean ginseng is one of the country's leading products because of its quality and medicinal value. If you want to find quality ginseng, it is best to go to the large shopping centres or to tax-free shops. These places will guarantee the quality of this root with curative properties.
Kimchi
This fermented vegetable dish is seasoned with spices. It is another traditional product to buy in South Korea if you want to take a taste of the country home with you. It is also one of the ten healthiest foods in the world. You will be able to buy it in shopping centres and tax-free shops.
Teas
If you like tea, you will be in paradise, as Korea has a large variety of traditional teas. If you want to take a selection of the best teas home with you, choose "Daechucha" a green tea made from jujube (a red date), "Yulmucha", a tea made from different grains, or "Omijacha", a tea with five aromas made from the fruit of Schisandra chinensis. You will be able to find them in the streets of Insadong in Seoul as well as in the tea producing regions, such as Boseong and Jeju Island.
Traditional liqueurs
Another thing to buy in South Korea is liqueurs. The most popular are "Soju", "Bokbunjaju", "Munbaeju" and "Makgeolli".  You will also find these in the shopping centres and in the shops of the country's main shopping streets.
Of course, you can also buy chopstick sets, teapots, plates and cups which have been richly lacquered in different colours. There is no doubt that everything you can buy in South Korea will delight you, as it is not just beautiful, but also very practical.
Copyright 2013-2023 Exoticca. All Rights Reserved.
Exoticca Travel Canada Inc 229 Yonge St Suite 400 Toronto, Ontario M5B 1N9 Canada