Call us toll-free now
Book with an expert for free:
1-888-488-0592
Prefer us to call you? Drop your number in the box:
Mon. to Fri.: available 24-hours Sat. and Sun.: 3:00 a.m. - Midnight (EST) Or call your preferred Travel Advisor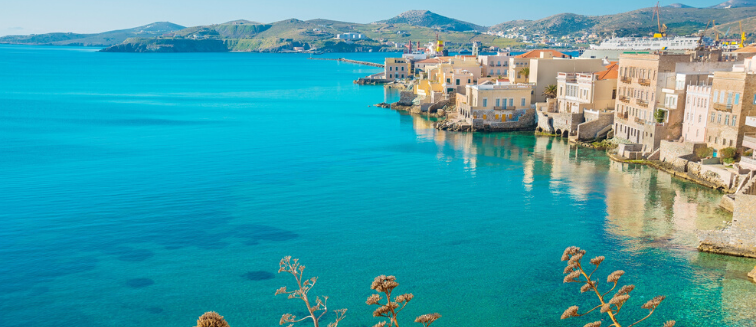 What to see in Greece
Syros
Tourist attractions Syros
Syros is one of those small islands in the Cyclades archipelago that tends to be overlooked owing to the popularity of others like Mykonos and Santorini. But you only need to glance at this little guide to what to see on Syros to realise that a stop here is more than worthwhile.
What to see on Syros: its capital, Ermoupolis, the Duchess of the Aegean
Ermoupolis is not only the capital of the island, but the largest city in the archipelago and also the first stop on our tour of must-see sights on Syros.
Its mix of Venetian and neoclassical architecture is enchanting and has earned it the nickname of the Duchess of the Aegean or Little Milan. Take a walk through its streets and you will be surprised by the marble pavements, its old mansions, statues, monuments and churches.
Miaouli Square
Stop for a moment in Miaouli Square, one of the most beautiful squares in Greece. You will notice the large palm tree, the only source of shade, keeping the terraces of bars and restaurants out of the sun. Don't miss the neoclassical facade of the Town Hall, influenced by the German and Italian styles.
The Ermoupolis Cultural Centre is nearby, where cultural events, exhibitions and concerts are held. It is remarkable for its high ceilings and marble panels showing images of Apollo and the nine muses.
Vardaki Square
Here you will find the theatre of Apollo, designed by the French architect Chabeau. The building will seem familiar, because it was designed to be a copy of La Scala in Milan.
Orthodox and Catholic temples
Any stroll through the streets of Ermoupolis is sure to reveal a number of churches and small temples, both Catholic and Orthodox. The church of Agios Deminitrios, which contains several valuable icons is one of the most notable.
What to see on Syros: towns and villages
Ano Syros, a taste of Venice
The whole town of Ano Syros is built in the form of an amphitheatre, with houses built on top of others, with the intention of creating a type of defensive architecture. This does not detract one iota from the beauty of a town that has now become the Catholic quarter of Ermoupolis, with incredible views over the sea.
It has a curious mix of typical island architecture and mediaeval buildings. Don't miss St. George's Cathedral, which has suffered several collapses and subsequent restorations throughout history. The last one occurred in 1834, following its destruction by the Turks in 1617. It has a remarkable, very large library.
As a Catholic district, Ano Syros has more examples of religious architecture, such as the Jesuit monastery of Saint John (Agios Ioannis), with icons of great beauty, ancient inscriptions, manuscripts and a library of over 6,000 volumes.
The origins of Greek blues or Rebetiko lie in this town. This is a type of popular music that came to this land with the refugees of Asia Minor.
Poseidonia, daughter of the god of the sea
Poseidonia is a coastal village named after the god Poseidon, who ruled the seas. More modest than Ermoupolis, it is equally charming. Poseidonia will delight you with its gardens and beautiful neoclassical-style villas. Wealthy citizens chose this village in the 19th century as an ideal place of retreat, which is why it is full of their holiday homes in the form of mansions. Most of them are impressive and very well preserved.
Besides walking the streets, you can swim at Poseidonia beach, with its fine white sand, scattered palm trees and its deep blue waters.
Azolimnos, a bustling place
Only six kilometres from Ermoupolis, Azolimnos is one of the villages on the island that attracts the most visitors. Its inhabitants live from fishing but in recent years also from tourism, which has developed considerably in the area. This may be because its beach offers a unique place for diving. Alternatively, it could be due to the delicious fresh fish served with wine and pasta at the small local restaurants. Either way, Azolimnos deserves a place in a guide on what to see in Syros on its own merits.
Lilas, high mountains in the Greek islands
If you are looking for different landscapes without leaving the Greek islands, come to Lilas. It's not exactly the Alps, but the village is at the highest point on the island and is surrounded by springs and all the natural beauty you could wish for. You can walk around its cobbled streets, have some wine in one of the picturesque taverns and leave the village with the feeling that you have seen something completely different.
If you want even more adventure, walk north to the Mentonis Cave, a long way from the most touristy places and practically unexplored.
The village of Vari
In Vari you will see a tower of Venetian influence next to the remains of a settlement of archaeological interest. Vari's bay is more sheltered from the winds than other beaches in Syros, so it's perfect for visiting with the family, especially if you're travelling with children.
A little further south you will find Komito beach, where a haven of comparative peace awaits after the most popular areas. But if you are really looking for the most complete tranquility, look for the beach of Santorinoi, which attracts very few bathers.
What to see on Syros: high-quality Greek cuisine and traditional dishes
Syros harbours a whole range of culinary gems. From cubes of Turkish delight with the most exotic flavours, such as roses or pistachios, to almond-filled cake and Greek nougat.
Don't miss the island's yogurt and cheeses. The Kopanisti is very mild, with a spicy touch that will surprise you. It's eaten hot.
We've already mentioned the fresh fish. Don't miss the chance to try it on this island.
The fresh fish is excellent on Syros and landed every morning by the fishermen. And don't miss the local sausage either.
As far as drinks are concerned, Greek red wine needs no introduction, but Syros has a locally-produced liqueur known as "grandmother's drink" that is popular here It is based on cherry brandy, which is exposed to the sun and seasoned with fruits and spices. 
Copyright 2013-2023 Exoticca. All Rights Reserved.
80 Southwest 8th Street Brickell Bayview, Miami, FL 33130, United States