Call us toll-free now
Book with an expert for free:
1-888-488-0592
Prefer us to call you? Drop your number in the box:
Mon. to Fri.: available 24-hours Sat. and Sun.: 3:00 a.m. - Midnight (EST) Or call your preferred Travel Advisor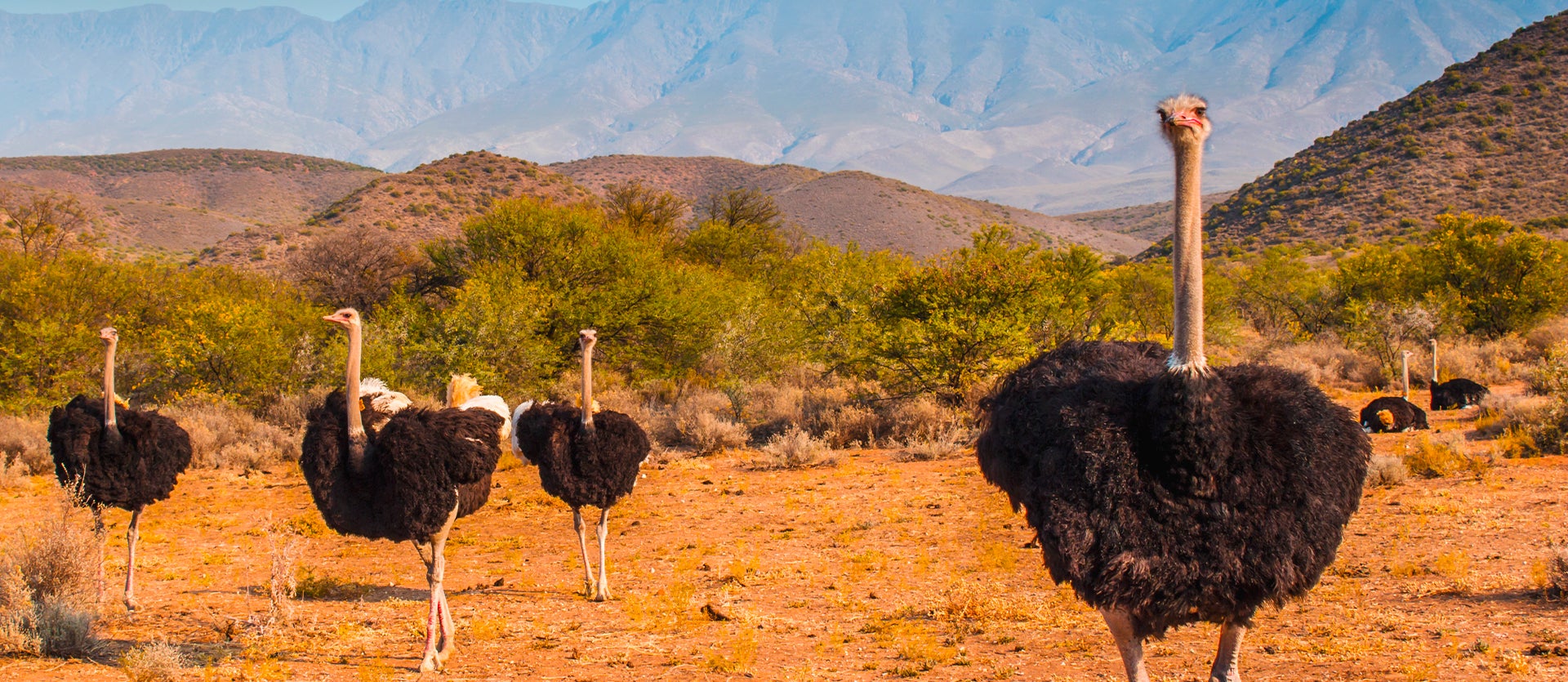 What to see in South Africa
Oudtshoorn
Tourist attractions Oudtshoorn
Nestled in the heart of the Klein Karoo plain in the Western Cape region, Oudtshoorn is famous as the ostrich capital of the world! Indeed, it's home to the largest population of these flightless birds on earth, and many make the trip to Oudtshoorn to visit its thriving ostrich farms and meet these curious creatures. Situated between the Swartberg and the Outeniqua Mountains, this pristine natural environment consists of a unique semi-arid landscape, home to beautiful rolling hills and flower meadows.
Just inland from the popular Garden Route, visiting Oudtshoorn is a popular starting point for those wishing to embark on this spectacular and scenic coastal drive. First settled in 1847, Oudtshoorn is also an important centre of agriculture, producing tobacco, dairy, fruit and vegetables as well as an abundance of ostrich feathers! Quiet and laid-back, life here moves at a slower pace than in the city. Although the town is modestly sized you'll find a handful of interesting historical museums and a good selection of restaurants, bars and cafes if you travel to Oudtshoorn. Of course, you can find just about anything related to ostriches here, and artisan goods such as carved and decorated ostrich eggs, decorations made from ostrich feathers and other bird-related memorabilia make classic souvenirs of a trip to Oudtshoorn. 
The surrounding rocks and caves are also popular, especially with climbing and hiking enthusiasts, but mostly a vacation to Oudtshoorn is the chance to reconnect with nature and take a few days to relax and unwind in a quiet, yet charming traditional rural town. 
Things to do in Oudtshoorn
Getting out and about in Oudtshoorn is sure to focus on the exceptional natural landscapes that surround the city. One of the best things to do in Oudtshoorn is to visit the famous Cango Caves, a cave system thought to be more than 20-million years old! Hidden chambers, cut deep into the limestone rock, the Cango Caves are one of the most astounding natural wonders in South Africa. To visit the Cango Caves, a guided tour is required, but once inside, this secret world unfolds before you and you can enjoy hours of entertainment exploring the cave system, complete with ancient stalagmites and stalactites. An excursion here is truly one of the most exciting things to do in Oudtshoorn.
Of course, a trip to this town would be incomplete without paying a visit to one of the local ostrich farms. There are plenty to choose from, and most ostrich farms offer guided tours, the chance to feed and pet the friendly ostriches and informative talks about the uses and traditions of ostrich farming. Furthermore, a number of the farms offer onsite restaurants, so you can make a day of it and enjoy the wide-open spaces of the picturesque Klein Karoo!
Finally, whilst you're staying in Oudtshoorn, be sure to pay a visit to the C.P. Nel Museum. Here, you can learn all about the fascinating history of this region. Housed within a 'feather-boom-era' house, the museum traces the evolution of the ostrich industry in this part of South Africa and the life of the Victorian-era settlers of Oudtshoorn. Named after Colonel Charles Paul Leonard Nel, the museum is one of the most interesting places to visit in Oudtshoorn if you'd like to understand the origins of the still-thriving ostrich business here!
OUR BEST TRIPS TO OUDTSHOORN
Copyright 2013-2023 Exoticca. All Rights Reserved.
80 Southwest 8th Street Brickell Bayview, Miami, FL 33130, United States