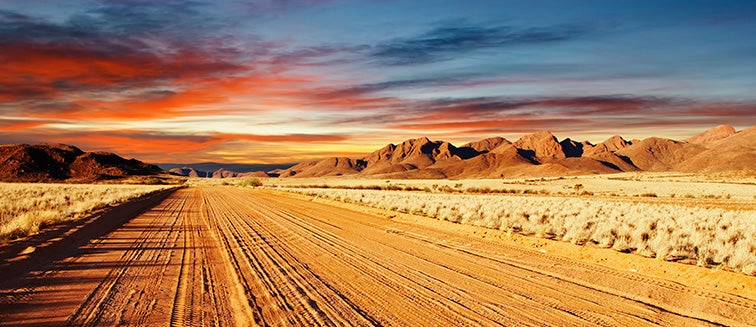 What to see in Namibia
Kalahari Desert
Tourist attractions Kalahari Desert
Although it stretches across three African countries, the Kalahari Desert, known as "the red desert" is the southernmost in the continent and covers much of the eastern and southern parts of Namibia.
The name of this fossil desert translates as "great thirst", however the portion that exists within Namibia, receives regular rains every year, so in addition to dunes, in the Kalahari there are ephemeral rivers, plains sparsely covered with grass, shrubs and trees such as red ebony, wild teak and camelthorn, among others. In addition, because it is the most well-preserved area, it has been proposed to be proclaimed one of the seven natural wonders of the world.
Herds of wildebeest, wild dogs, hyenas, jackals, leopards, cheetahs, giraffes, meerkats and lions are some of the species of animals that you can find in these mysterious lands, hot by day and cold at night.
The San community, also known as the Bushmen, were the first settlers of this territory, trying to maintain their ancestral customs such as nomadism, hunting and foraging.
Visiting the Kalahari desert is a different and very rewarding experience which is often combined, by proximity, with a visit to the Fish River Canyon.
OUR BEST TRIPS TO KALAHARI DESERT

Do you want expert advice?
We can help you choose the best destination for your trip.