Call us toll-free now
Book with an expert for free:
1-888-488-0592
Prefer us to call you? Drop your number in the box:
24 hours a day, 7 days a week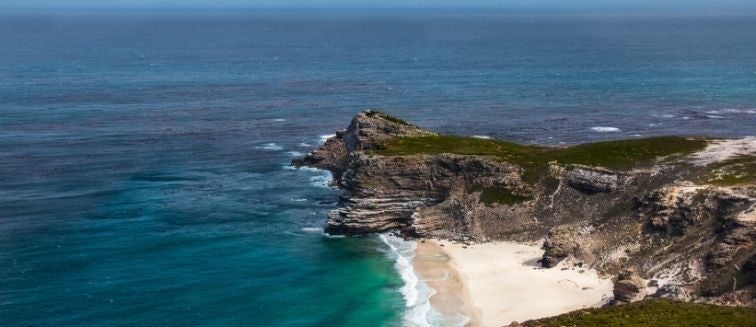 What to see in South Africa
Cape of Good Hope
Tourist attractions Cape of Good Hope
Traveling to the Cape of Good Hope does not mean reaching the southernmost point of the planet, although for a long time it was believed that it did. Actually, that honor belongs to Cape Agulhas. But what can never be denied about the Cape of Good Hope is its incomparable beauty and the unique possibility of getting close to endangered species, such as white sharks or the less terrifying African penguins.
Enjoy a trip to the Cape of Good Hope from Cape Town
You are most likely to get to the Cape of Good Hope from Cape Town. The trip should take about an hour, but it will probably take longer because of the number of things to see along the way. You'll want to stop dozens of times to look at the landscape. Do so. 
The journey from Cape Town to the Cape of Good Hope takes around one and a half hours, but the journey will inevitably be lengthened by the stops you can make in order to revel in the incredible scenery.
On the way, stop at Boulders Beach
Boulders Beach is a must-see. An obligation that most travelers observe. But don't be put off by the crowds. You definitely can't miss this rocky granite beach, which is a staging post for humans but also a large colony of African penguins.
Another obligatory stop: Duiker Island
Give yourself some time to make the trip to these islets. Rather than a real island, they're rocky outcrops that break the surface. Don't swim here: the water is cold and the wind may well be on the uncomfortable side. But there's one good reason to endure the inclement weather: the sea lions that live on Duiker Island will compensate you for the cold and wind. They love the weather and there's no other place on earth where you can get so close to them.
Don't miss Simon's Town, a town devoted to the sea
Simon's Town is a perfect example of a small fishing settlement where Victorian-style colonial architecture abounds. There was a major British naval base here for approximately 200 years. That's why in addition to great restaurants serving fresh fish there are two major museums here: the Naval Museum and the Simon's Town Museum.
Cape National Park: what to do once you arrive
Traveling to the Cape of Good Hope consists, to a large extent, of getting to the Cape National Park. From Simon's Town just keep going along the beach road.
Be sure to go up the lighthouse
At Cape Point, the Atlantic and Indian Oceans meet. To see them both, it is best to take a deep breath and walk. The walk to Cape Point from the lighthouse takes only 20 minutes, but that doesn't mean the journey is safe. While you find thieves in all the cities in the world, Cape Point is where you'll find thieving baboons. Be careful with your belongings.
When you get to the lighthouse, which was built about 260 meters above sea level, you'll see that it's not working. This is because the weather makes it redundant, despite its excellent location. It is often shrouded in fog, and this led to many accidents out at sea. So it no longer gives out light, but the output of the other South African lighthouses is controlled from here.
As far as we're concerned, however, the best thing it can offer are the views.
If you don't want to walk up, you can take a cable car from the car park.
Getting to the tip of the Cape of Good Hope
Traveling to the Cape of Good Hope is synonymous with arriving at a magical place. The meeting of the two great oceans raises spectacular waves that are bound to impress you. Don't worry if you don't get pictures that do them justice: it's not easy.
You will get to the furthest point after a walk of between 45 minutes and an hour, but it won't be in vain. And not only because of the landscape you find at the end of the track, but also because of the wealth of birds and fauna, you'll come across. You can also see the flora that you can't find anywhere else in the world.
Take appropriate footwear and water and simply enjoy it.
Whale watching
The Cape of Good Hope is a perfect place for the most adventurous travelers to test their courage and bravery. Very close to here, at Gansbaai, you can try cage diving. And why would you dive in a cage? For a chance to come face-to-face with a great white shark. Yes, the bloodthirsty protagonist of Steven Spielberg's terrifying film, which spread panic along the beaches.
If you are not looking for that level of excitement, you can choose an activity recommended for the whole family: whale watching. In Hermanus, you can almost touch them.
OUR BEST TRIPS TO CAPE OF GOOD HOPE
Copyright 2013-2023 Exoticca. All Rights Reserved.
80 Southwest 8th Street Brickell Bayview, Miami, FL 33130, United States