Call us toll-free now
Book with an expert for free:
1 778 807 9750
Too much? We'll call you. Drop your number in the box:
24 hours a day, 7 days a week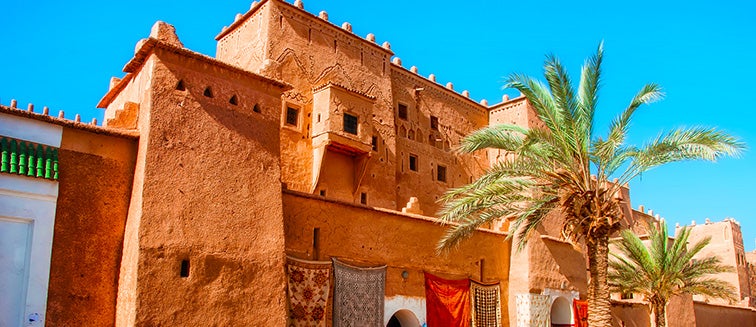 What to see in Morocco
Ouarzazate
Tourist attractions Ouarzazate
Set in a stunning location, nestled between the snow-capped High Atlas Mountains and the Sahara Desert, Ouarzazate is a Berber town and the first port of call for travellers wishing to head deeper into the deserts of Morocco or explore the fortified village of Ait Ben Haddou. Ouarzazate has been an important trading centre for centuries and grew quickly during the years of French rule. 
A stroll past its atmospheric Taourit Kasbah reveals its antique charms, but much of the appeal of a trip to Ouarzazate lies in its accessibility to the Sahara, making it an excellent base for a number of adventurous desert excursions. Camel trains into the desert leave from Ouarzazate, destined for magnificent journies to destinations as far-flung as Timbuktu in Mali. Since the French left in the 1950s, Ouarzazate has famously been used as a backdrop for a number of blockbuster movies and a visit to Atlas Studios will show you the settings of films such as Gladiator and Kingdom of Heaven. Film-buffs can even explore the eerie abandoned set of the spooky Hills Have Eyes blockbuster, which is located close to the city and is complete with a spooky mock gas station. 
Rather more tranquil things to see in Ouarzazate include a number of oases, such as the Flint Oasis, where tiny villages nestle amongst the uncharacteristically lush palm trees, and Skoura Oasis, known as the 'Oasis of 1000 Palms'. There are countless accommodation options to choose from in Ouarzazate, as well as cafes and restaurants showcasing the best in Berber cuisine, although many who travel to Ouarzazate choose to join the camel treks into the desert to spend their nights under the blanket of stars in the Sahara instead. The 'gateway to the desert', Ouarzazate is an unmissable stop on any tour of Morocco.
OUR BEST TRIPS TO OUARZAZATE
Copyright 2013-2023 Exoticca. All Rights Reserved.
Exoticca Travel Canada Inc 229 Yonge St Suite 400 Toronto, Ontario M5B 1N9 Canada