Call us toll-free now
Book with an expert for free:
1 778 807 9750
Too much? We'll call you. Drop your number in the box:
24 hours a day, 7 days a week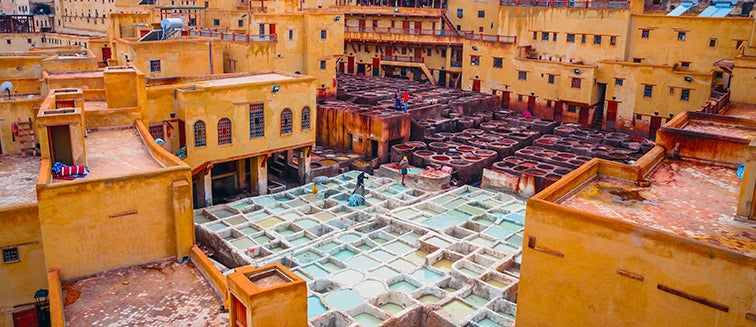 What to see in Morocco
Fes
Tourist attractions Fes
The second largest city in Morocco, Fes, located in the north of the country, exudes a historic charm thanks to its long history and well-preserved old town. Founded between the 8th and 9th century under the Idrisid dynasty, the city of Fes was considered one of the most important cities in Islamic civilisation, which is still evident today in its many prestigious religious buildings and monuments. It is also home to one of the world's oldest universities, the University of al-Qarawiyyin, a centuries-old centre of science and technology.
The heart of Fes can be found in its labyrinthine medina, where you will be struck by the car-free streets, filled instead with working animals such as donkeys and horses. It is the largest car-free urban zone in the world. Fes is renowned as the handicraft capital of Morocco, so you will be spoilt for choice when shopping in the city's souks.
Over the centuries the city has benefitted from its location between many of the other major Moroccan cities, such as Tangier, Rabat and Casablanca, making it an important trading and production centre and an unmissable stop on a tour of Morocco.  
Highlights of Fes
A number of impressive buildings and monuments are not to be missed on a trip to Fes. Firstly, the Bou Inania Madrasa stands out for its distinctive Islamic architecture, thought to be the best example in Fes which can be enjoyed by non-Muslim visitors. A 14th-century religious school, this madrasa is centred around an ornate courtyard, decorated with beautiful Islamic wall-designs and bas-reliefs including traditional geometric patterns.
Another fantastic example of traditional architecture is the Bab Bou Jeloud city gate, which most visitors to Fes will pass through in order to enter the medina. This eye-catching triple-arched Moorish design structure offers itself to countless photo opportunities.
The Dar al-Makhzen Royal Palace is another monumental feat of Islamic architecture, eternally glistening in the sunshine due to its golden doors. Still in use today by the Alaouite Sultan, the palace is not open to the public but the entrance gates are impressive enough on their own! A trip to Fes is incomplete without a wander through the winding alleys of the medina and its souks. This is the ultimate way to experience the city and understand it's history and it's people.
Copyright 2013-2023 Exoticca. All Rights Reserved.
Exoticca Travel Canada Inc 229 Yonge St Suite 400 Toronto, Ontario M5B 1N9 Canada