Call us toll-free now
Book with an expert for free:
1 778 807 9750
Too much? We'll call you. Drop your number in the box:
24 hours a day, 7 days a week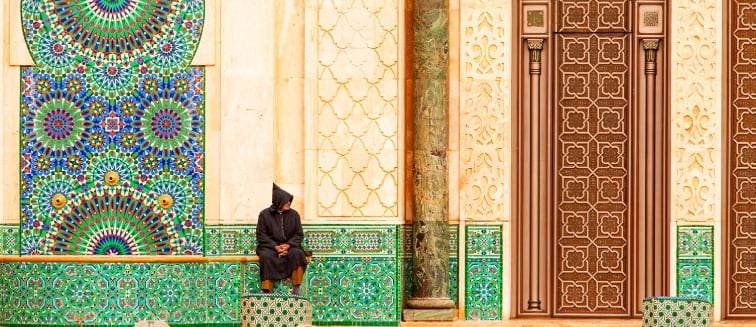 What to see in Morocco
Casablanca
Tourist attractions Casablanca
A port city on Morocco's Atlantic coast, immortalised in the classic film of the same name, Casablanca evokes expectations of old-world charm, but in reality, it is one of the country's more modern cities and is, in fact, the largest city in the country. With long stretches of beach dotted with up-market beach clubs, it is a popular holiday destination for both Moroccan's and foreign visitors, with its coastal breeze offering respite from the sweltering temperatures in the interior of the country.
Unlike other Moroccan cities, Casablanca's medina is not it's primary attraction, instead, its busy new town or 'ville nouvelle'  is where most of the cultural and leisure attractions can be found. With a population of 4 million, you certainly feel as though you are in a major city when you visit Casablanca, and it's hard to ignore the charm of the old French colonial buildings that populate the downtown area, where Moorish and art-deco styles combine.
Casablanca is well known for its nightlife and is awash with high-end bars, trendy restaurants and a number of nightclubs, making a holiday to Casablanca a different experience to visiting other Moroccan destinations, where consumption of alcohol is largely frowned upon. The city plays host to a number of arts and music festivals, the most famous of which is Jazzablanca, an annual celebration of Jazz music, both local and international.
Highlights of Casablanca
The city's most iconic sight is the King Hassan II Mosque, which stands partially in the Atlantic Ocean and has the tallest minaret in the world at 210 metres. It's a relatively new mosque, completed in 1993, and can hold an impressive maximum of 105,000 worshippers at one time, making it the largest mosque in Africa and the fifth largest in the world.
Its minaret is topped by a laser which points to Mecca and its sleek facade is crafted out of marble. Luckily for visitors on a tour of Casablanca, this impressive mosque is one of just two mosques in Morocco that are open to non-Muslims. Other sights to visit in Casablanca include the Old Medina, a small traditional walled town home to authentic souks and the best place for a taste of the old Casablanca, and the mosaiced Central Post Office, an emblem of the city's glamorous past. If all the city exploration has left you feeling weary, there's nothing more Moroccan than unwinding at a local Hamman bathhouse.
OUR BEST TRIPS TO CASABLANCA
Copyright 2013-2023 Exoticca. All Rights Reserved.
Exoticca Travel Canada Inc 229 Yonge St Suite 400 Toronto, Ontario M5B 1N9 Canada