Call us toll-free now
Book with an expert for free:
1 778 807 9750
Too much? We'll call you. Drop your number in the box:
24 hours a day, 7 days a week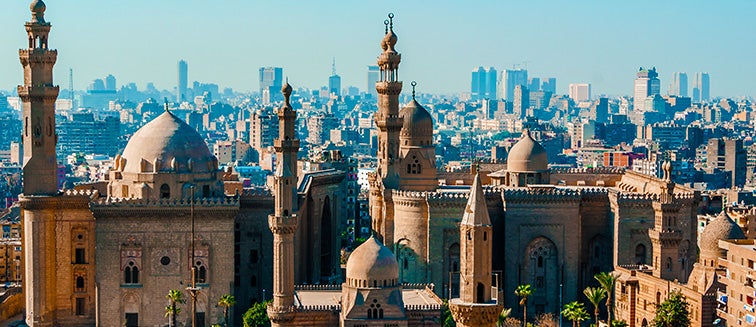 What to see in Egypt
Cairo
Tourist attractions Cairo
The gigantic Egyptian capital stretches for kilometers. The Alabaster Mosque is one of the visual references of the city, as well as the citadel of Saladino, a medieval Islamic fortification that can be seen from different parts of the city.
One of the great attractions of any trip to Cairo is to get lost in the Jan el-Jalili souk, a network of narrow streets covered with numerous stalls where you can find all kinds of items: from the famous shishas, incense, papyri, spices or poufs made from camel skin, to clothing, antiques and costume jewellery. The Egyptians like to bargain very much, so purchases in any part of the country will be very economical. Another unmissable sight is the famed Egyptian Museum in Cairo, whose cabinets contain precious relics of Ancient Egypt such as vases, sculptures, friezes, paintings, personal belongings and sarcophagi found in the valley of the Kings. In the museum, you can also see the treasure of Tutankhamun, and the mummies of some of the most important pharaohs in history. The pyramids of Giza, one of the wonders of the world, are located on the outskirts of Cairo.
Copyright 2013-2023 Exoticca. All Rights Reserved.
Exoticca Travel Canada Inc 229 Yonge St Suite 400 Toronto, Ontario M5B 1N9 Canada