Call us toll-free now
Book with an expert for free:
1 778 807 9750
Too much? We'll call you. Drop your number in the box:
Mon. to Fri.: available 24-hours Sat. and Sun.: 3:00 a.m. - Midnight (EST) Or call your preferred Travel Advisor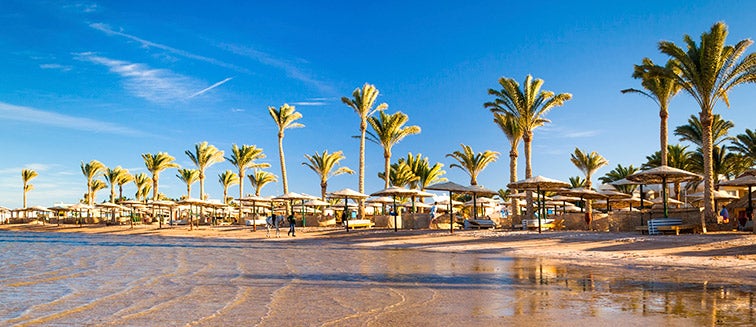 What to see in Egypt
Hurghada
Tourist attractions Hurghada
One of the most popular cities on the Red Sea, a vacation to Hurghada is sure to be filled with warm sunshine, amazing underwater adventures and rich Egyptian culture! Once a humble fishing village, since the 1980s dozens of beach resorts and amenities have sprung up here, making it one of Egypt's top destinations. Known for its watersports, scuba diving scene and sun-kissed beaches, it's a year-round destination. Furthermore, family vacations to Hurghada are always popular. With daytime temperatures hovering around 30 degrees Celsius for much of the year, a trip to Hurghada is perfect for those searching for a little winter sun. In fact, the Christmas and New Year seasons are among the busiest times of year for travel to Hurghada. 
The beach resorts of Hurghada suit all tastes and budgets and many have their own private stretch of beach and scuba diving or watersports clubs. The main appeal of travel to Hurghada, after the near-perfect weather, are the warm and abundant waters of the salty Red Sea. Snorkelling and scuba diving here reveal a rich underwater ecosystem, filled with vibrant coral reefs, colourful fish and tropical marine life. 
On the other hand, Hurghada city offers a slice of Egyptian culture once you've had your fill of beach relaxation. Dahar is the oldest part of town, home to a bazaar as well as local restaurants, shops and shisha cafes. If you're planning an all-inclusive Hurghada trip, it's good to know that the city is connected to many cities in Europe and the rest of the world by an international airport. 
Things to see in Hurghada
Although Hurghada is more geared towards sun, sea and sand, there are a few unmissable things to see if you take a vacation here. One such place is the Hurghada Museum, a window into the history of Egypt on the sunny shores of Hurghada! A museum of antiquities, here you can view a variety of artefacts across many different periods in Egyptian history. The collection contains relics from Pharaonic, Greco-Roman, Islamic and Modern Egypt.
Head into Hurghada city and you'll find the beautiful Al-Mina Mosque, located next to the seafront pier. Opened in 2012, although it is relatively new construction, its ornate architecture and huge size make for a captivating sight! The mosque is open to the public outside of worshipping hours and looks particularly beautiful when illuminated in the evenings.
In search of underwater adventures? Look no further than Hurghada's excellent snorkelling and scuba diving sites. Among the most popular are the Giftun Islands, situated just off the coast of Hurghada. A popular stop on boat tours, the warm shallow waters surrounding the islands are ideal for snorkelling, especially for beginners. If you're a seasoned scuba diver, sites such as Gota Abu Ramada, El Fanus and Fanadir allow you to discover abundant coral reefs and a rich ecosystem of marine life, from clownfish and moray eels to reef sharks and dolphins!
Finally, one of the most popular things to do in Hurghada is to take an excursion into the desert. The deserts surrounding the city are ideal for dune-surfing and 4x4 desert safaris. Furthermore, many excursions include a sunset meal at a desert camp or a visit to a tranquil oasis. 
OUR BEST TRIPS TO HURGHADA
Copyright 2013-2023 Exoticca. All Rights Reserved.
Exoticca Travel Canada Inc 229 Yonge St Suite 400 Toronto, Ontario M5B 1N9 Canada