Call us toll-free now
Book with an expert for free:
1 778 807 9750
Too much? We'll call you. Drop your number in the box:
Mon. to Fri.: available 24-hours Sat. and Sun.: 3:00 a.m. - Midnight (EST) Or call your preferred Travel Advisor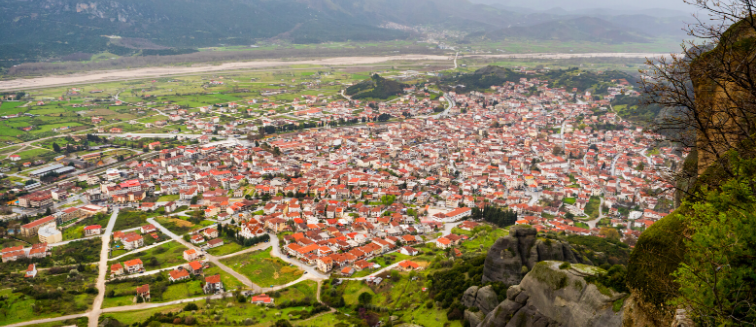 What to see in Greece
Kalambaka
Tourist attractions Kalambaka
It is impossible to reach the famous monasteries of Meteora without passing through the small town of Kalambaka. If you decide not to act like other tourists and make a stop here, you will be surprised how much there is to see in Kalambaka.
What to see in Kalambaka
A walk through the town of Kalambaka
The first thing you will notice in Kalambaka are the views of the surrounding country, a feature that it shares with the nearby and also little-visited village of Kastraki. But the town itself is also charming. And not only because of its narrow streets and simple houses. Most of these have their own stable and garden.
The best thing about Kalambaka is the church of the Assumption of the Virgin Mary. This is a building with three naves decorated with frescoes that date from the 14th century, a real gem that many people miss because they are so set on seeing Meteora.
The town's best-known streets converge in the main square: Vlahavas, Kastrakiou, Ioanninon, Trikalon and Rodu.
A small wood stretches around the town and, where it ends, you will see a beautiful chapel that crowns the top of the mountain. A place with a special aura, full of mystery and charm. Undoubtedly one of the places to see in Kalambaka.
What to see in Kalambaka: the surrounding area
Meteora is one of the most visited places in northern Greece and one of the most famous attractions to see in and around Kalambaka. The combination of its rugged landscape, with strange rock formations, green valleys bottoms and floating monasteries make it unlike anywhere else.
What is there there to do in Meteora?
The monasteries of Meteora are its main attraction, but there are many things to do in the wild natural surroundings.
You can go hillwalking to get a close up view of the rock formations that are the hallmark of the area. The views from the inns that lie on some of the trails will take your breath away. Walk to Meteora's highest rock. If you are wondering what to see in Kalambaka, a stop here, 400 metres above the town, will give you a unique perspective. Climbing There are cycle routes with three different levels of difficulty. Visit to the caves of Meteora Rafting
Meteora Monasteries: the sightseeing highlights in and around Kalambaka
Originally there were 24 monasteries in Meteora, but only thirteen still remain and of these only six can be visited. All of them have been named World Heritage Sites by UNESCO, which has not prevented well-known films and series such as HBO's Game of Thrones from being shot here.
If you want to make sure you see at least a couple, arrange for your visit to fall on a Sunday. This is the day when all the monasteries are open.
Which monasteries can be visited in Meteora
Monastery of Great Meteoron or the Transfiguration This is the largest and also the most interesting of the group. If you're only going to see one, make it this one. It even houses a small museum explaining the monastic way of life. Monastery of St. Nicholas Monastery of St. Stephen The easiest to reach. Monastery of the Holy Trinity The most difficult to reach. Monastery of Roussanou or Saint Barbara, which is the only one where nuns still live. Monastery of Varlaam or All Saints.
Tips for visiting the monasteries of Meteora
It is important to bear in mind that there is a dress code and that it is especially important for women. Women must cover their arms and legs; trousers are not acceptable - they must wear long skirts. If you're travelling in short sleeves and shorts, don't worry. Like many mosques in other countries, the monasteries in Meteora lend large scarves which you can use to cover your arms and legs and go inside.
The rules are more permissive for men. In theory long trousers are needed to enter and the most reasonable thing is to wear them, but they do not usually make too much fuss about men wearing shorts. In any case, men can also use the same type of scarves as women to cover their legs if necessary.
Sunset in Meteora
Besides visiting the six monasteries that are the main sightseeing attraction in Kalambaka and the surrounding area, watching the sun go down on Meteora is a real treat. Especially if you follow one of the mountain paths up to the viewing points. If you choose to embark on this little adventure, remember to carry a torch in your rucksack. The area is safe, but you can't be too careful if you want to prevent your holiday being spoilt by a mishap on the mountain.
And now that you know what there is to see in Kalambaka, prepare your trip with Exoticca.
OUR BEST TRIPS TO KALAMBAKA
Copyright 2013-2023 Exoticca. All Rights Reserved.
Exoticca Travel Canada Inc 229 Yonge St Suite 400 Toronto, Ontario M5B 1N9 Canada